Showtime's Black Monday puts Don Cheadle back in con man mode after five seasons as Marty Kaan in network's House of Lies
01/18/19 12:24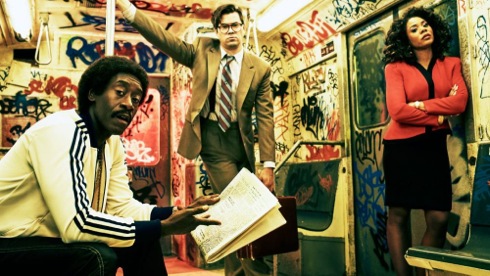 Meet the $$$-crazed Pillage People of Black Monday. Showtime photo
PREMIERING:
Sunday, Jan. 20th at 9 p.m. (central) on Showtime
STARRING:
Don Cheadle, Regina Hall, Andrew Rannells, Paul Scheer, Kadeem Hardison, Casey Wilson, Yassir Lester, Horatio Sanz, Ken Marino
PRODUCED BY:
David Caspe, Jordan Cahan, Seth Rogen, Evan Goldberg, James Weaver, Don Cheadle
By ED BARK
@unclebarkycom on Twitter
Two-and-a-half years removed from a five-season run on Showtime's
House of Lies
, Don Cheadle barely segues to another rapacious deal-closer in the network's
Black Monday
.
Rooting interest? Those who admired Michael Douglas' ruthless Gordon "Greed is Good" Gekko can start building a new shrine to Maurice "Mo The Marauder" Monroe (Cheadle), the coke-imbibing, underling-abusing, womanizing and thoroughly amoral head of a fictional Wall Street firm called The Jammer Group. "I am Black Moses," he proclaims in an early scene, with his "Promised Land" being supreme wealth and power by any means necessary.
It's all supposed to be a dark comedy whose events precede the worst stock market crash in history on Oct. 19, 1987. Showtime's selling point: "To this day, no one knows who caused it. Until now."
No one can accuse Cheadle of not throwing himself into this role. Outfitted with a period piece Afro, he's a dervish whose whirling is virtually non-stop. Mo's chariot is a beyond flashy red Lamborghini limousine that takes a beating for starters when a suicidal stockbroker takes a multi-story leap onto its roof.
Bad Monday
then rewinds to a year earlier, with Mo both snorting lines and spouting them like crazy.
Season One consists of 10 half-hour episodes, with the first three made available for review.
Black Monday
's pace slows somewhat after Sunday's full throttle premiere. But Mo's methods remain unchanged. He's out to screw anyone who can get him to the next rung, whether it's the twin "Leighman" brothers (both played by Ken Marino) or wide-eyed novice trader Blair Pfaff (Andrew Rannells). He's lately living with a willful material girl (Casey Wilson as Tiffany) who could be of considerable help in getting Mo majority control of Georgina Jeans.
The Jammer Group's lone woman of import is Dawn Towner (Regina Hall), who yearns to be a partner in the firm while Mo wants only to bed her. The other principal members of his constantly put-upon and put down crew are Keith (Paul Scheer), Yassir (Yassir Lester) and Wayne (Horatio Sanz). They might as well be The Three Stooges.
Some of the writing clicks, including a line that's funny on the face of it if you're among the likely handful of viewers who get Mo's drift when he tells Dawn that she'll be getting her own parking space. Except that it's the "one that smells like Detlef Schrempf post-game," he adds. (Your friendly reviewer, also a longtime sports fan, knew that Schrempf played for several NBA teams. But further research shows that none of them were the hometown New York Knicks. So the reference doesn't work in context, but merely saying "Detlef Schrempf" can be something of a crack-up, until you look deeper.)
Episode 2 ends winningly with a little outlier scene that actually borders on being poignant. But too much of
Black Monday
is sounds and furious self-absorption/deception. Mo's only agenda with Blair, as he tells his main male yes men, is to fake a father-son relationship in the interests of getting "close enough to stab him in the back."
As an actor, Cheadle obviously enjoys this sort of ride. From
House of Lies
to
Black Monday
requires little more than a change of wardrobe. The characters of Marty Kaan and Mo Monroe otherwise are cut from the same cloth. And as a second time around for an accomplished actor, it's all starting to look more than a little threadbare.
GRADE:
C+
Email comments or questions to:
unclebarky@verizon.net