Blindly going forth with CW network's In the Dark
04/03/19 15:20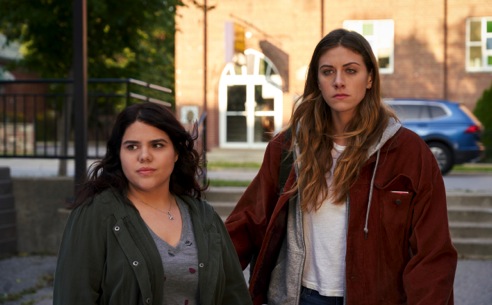 In the Dark focuses on the unseeing Murphy Mason (right). CW photo
Premiering:
Thursday, April 4th at 8 p.m. (central) on The CW
Starring:
Perry Mattfield, Brooke Markham, Rich Sommer, Morgan Krantz, Casey Diedrick, Keston John, Derek Webster, Kathleen York, Lindsey Broad, Calle Walton,Thamela Mpumlwana
Produced by:
Corinne Kingsbury, Jonathan Collier, Ben Stiller, Jackie Cohn, Nicholas Weinstock, Michael Showalter
By ED BARK
@unclebarky com on Twitter
Disagreeable Murphy Mason wears her blindness like a suit of armor, repelling any inclinations to have a personal life beyond drinking, smoking and one-night stands.
Save for one exception in The CW's better than expected
In the Dark
. Murphy's (Perry Mattfield) bonding with 17-year-old street kid Tyson Parker (Thamela Mpumlwana) came only after he deterred a mugger from beating her to death. She's been visiting him regularly ever since, usually bringing a candy bar. But then one night Murphy finds him dead. Or does she?
Tyson's disappearance fuels the three involving episodes made available for review, with Murphy trying to be an amateur sleuth without ever joining the Chicago police department. So this isn't about a crime of the week solved by an ad hoc pro-and-amateur detective team.
In the Dark
instead is an ongoing mystery being put together with small weekly puzzle pieces. And although the going can be slow, the cynic at its center can be quite a show. As when Tyson's drug-running cousin, Darnell James (Keston John), attempts to order breakfast for her, which Murphy resents. "I think whoever started that trend should be punched in the nuts," she rejoins before spurning pancakes in favor of eggs over easy and crispy bacon. Will that be all?
Murphy's erstwhile best friend otherwise is lesbian roommate Jess Damon (Brooke Markham). She's a veterinarian at Chicago's Guiding Hope, a pressed-for-funds dog-training center run by Murphy's adoptive parents, Hank and Joy (Derek Webster, Kathleen York). Murphy draws a salary, but her "work" schedule mainly consists of smoking and laying around while nursing hangovers. Dad's the more patient one while mom's pretty much had it. As has nerdish co-worker Felix Bell (Morgan Krantz), the main butt of Murphy's serrated one-liners.
In the Dark
also features nice guy single detective Dean Riley (Rich Sommer), whose daughter, Chloe (Calle Walton), just happens to be blind, too. Murphy softens in her presence and offers dad some tips on how to treat her. This makes Dean more disposed to help her find Tyson despite no dead body or evidence pointing to foul play.
A hunky food truck dude named Max (Casey Diedrick) makes the scene in Episode 2. He's determined to break through Murphy's hardened exterior but his illicit business with Darnell seems to make him a little suspicious if not outright duplicitous. Just in case this isn't enough, add Murphy's oft-insulted guide dog Pretzel and Jess's lover, Chelsea (Lindsey Broad). That's a lot of mouths to feed with dialogue, even if Pretzel generates his own script.
Murphy, sightless since age 14 due to a degenerative disease, gets a number or razor sharp lines during the course of finding her bearings. Mattfield excels in delivering them while the rest of the cast tends to march to her beats.
TV series starring blind characters have been very few and far between, with neither
Longstreet
nor
Blind Justice
lasting beyond their first seasons. In both dramas, sightless sleuths solved crimes of the week.
In the Dark
stretches beyond that premise, melding a serial mystery with the gradual maturing of its lead character.
It remains to be seen, so to speak, whether
In the Dark
will play itself out in a single season or find other ways to extend beyond that. The show's creative team, headed by creator Corinne Kingsbury and including Ben Stiller, so far have put together a show that's surprisingly and bracingly watchable.
GRADE:
B
Email comments or questions to:
unclebarky@verizon.net