Summertime filler finds its standardbearer in CBS' Blood & Treasure
05/20/19 15:15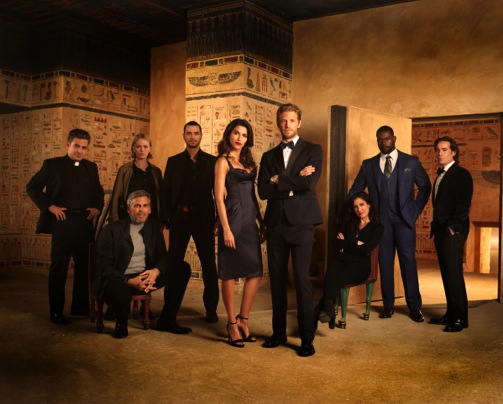 The finders and peacekeepers of Blood & Treasure. CBS photo
Premiering:
Tuesday, May 21st at 8 p.m. (central) on CBS
Starring:
Sofia Pernas, Matt Barr, Katia Winter, Michael James Shaw, James Callis, Oded Fehr, Alicia Coppola, Mark Gagliardi
Produced by:
Matthew Federman, Stephen Scaia, Taylor Elmore, Ben Silverman, Marc Webb, Mark Vlasic, Howard T. Owens, Michael Dinner
by ED BARK
@unclebarkycom on Twitter
The script too often belongs in a crypt, which perhaps is fitting for a summertime trifle that begins inside the long-lost tomb of Antony and Cleopatra.
CBS'
Blood & Treasure
, which gets a two-hour launch on the penultimate night of the May "sweeps" ratings period, otherwise globe trots to and fro with a mix of banter that tends to fall flat and action scenes that sometimes play a little better. Unfortunately, cases aren't opened and shut within a single episode. By the end of Tuesday night's laborious proceedings, antiquities expert Danny McNamara (Matt Barr) and art thief Lexi Vaziri (Sofia Pernas) are no closer to catching a group of vipers intent on funding some sort of monumental terrorist act with proceeds from priceless ancient treasures. And it turns out to be not much fun getting basically nowhere despite
Blood & Treasure
's time traveling (as far back as 1942) and changes of scenery that include mockups of Rome, Paris, Monte Carlo, Alexandria, Geneva, New York City, Vatican City and a floating casino in the Black Sea.
As befits the times, Lexi is the action fighter while Danny is a bit of a dweeb, even if he's also an ex-FBI agent. They used to be lovers, but a tragedy in her life tore them apart. As these things go, however, Danny now need Lexi because she knows her way around crooked art dealers and revealing cocktail dresses. As for his skill set, "there's nobody better at tracking blood antiquities than you," benefactor Jay Reece clunkily tells Danny. The recurring Reece is played by John Larroquette. Poor John Larroquette.
Gumming things up on occasion is Interpol agent Gwen Karlsson (Katia Winter), who wants a head villain named Farouk (Oded Fehr) thwarted but not by breaking international law. There's also Monsignor Charles "Chuck" Connelly (Mark Gagliardi), a New York-bred boyhood pal of Danny's who now works at the Vatican Foreign Ministry but still says "dude" a lot. Little did he know there's an escape tunnel underneath the Vatican. But Danny somehow does. Even in escapist fare such as this, that's a silly throw-in.
The byplay between Lexi and Danny never clicks, making the cancellation of ABC's jaunty
Whiskey Cavalier
all the more unfortunate. Those two knew how to parry and thrust. But in
Blood & Treasure
, it never gets much better than Danny telling Lexi, "You've got sandwich all over your face." Which she really doesn't. Lexi offers a so what shrug anyway.
CBS probably knows it has a lemon here. The network's "event" serial dramas of summers past --
Under the Dome, Extant, Zoo
-- at least seemed to be unusually big undertakings for the hot weather months.
Blood & Treasure
in comparison looks fated to just trickle along from week to week with little fanfare and fewer fans.
GRADE:
C-minus
Email comments or questions to:
unclebarky@verizon.net