Women take all the leads in ABC's four fall newcomers
05/14/19 09:43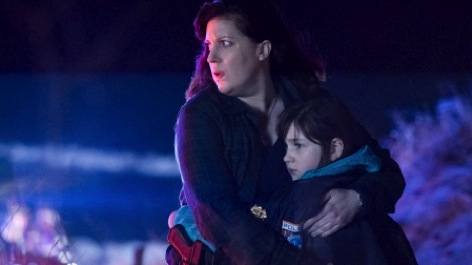 Fargo
alum Allison Tolman gets promoted to chief in
Emergence
. ABC photo
By ED BARK
@unclebarkycom on Twitter
ABC scrimped on new fall series Tuesday, but not on women marching at the heads of them.
All three of the scripted freshmen "have broadly appealing concepts with strong female points of view," the network says. A reboot of
Kids Say the Darndest Things
also has been ordered, with Tiffany Haddish hosting. The previous two versions were hosted by Art Linkletter and (urp) Bill Cosby.
The network also touted its "most stable schedule in over a decade," even though none of ABC's prime-time series is anything close to a ratings blockbuster. Its most consistent performer, the evergreen
Grey's Anatomy
, has been renewed for two more seasons and will fire up its 16th next fall.
ABC's cancellation corral is well-populated, with the demises of
Whiskey Cavalier, The Kids are Alright, Speechless, The Fix, Splitting Up Together, For the People, Take Two, Child Support
and
The Alec Baldwin Show
. On the other hand, six of last season's newcomers --
The Rookie, Bless This Mess, Single Parents, The Conners, Schooled
and
A Million Little Things
-- are getting sophomore years. The fate of Eva Longoria's
Grand Hotel
, which was announced last May, is yet to be determined. The serial soap is scheduled to premiere on June 17th.
Here are ABC's three new scripted fall series:
Emergence
(drama) -- Allison Tolman, who came to fame to fame as dogged police officer Molly Solverson in Season One of FX's
Fargo
, has moved up to a police chief named Jo this time out. She's fated to take in a young child found near the site of a mysterious accident. The kid has no memory of what happened, with a subsequent investigation drawing Jo into "a conspiracy larger than she ever imagined." Tolman also previously starred in the under-appreciated ABC comedy series
Downward Dog
.
Stumptown
(drama) -- Based on the same-named graphic novel series, this one stars Cobie Smulders as Dex Parios, an Army vet whose "military intelligence skills make her a great PI." Alas, she also has an "unapologetic style" that rubs both crooks and cops the wrong way. It's all set in Portland, Oregon, where Dex also takes care of her brother when she has the time.
mixed-ish
(comedy) -- In this
black-ish
spinoff, Rainbow Johnson recalls her childhood upbringing in a mixed-race family and the "constant dilemmas they had to face over whether to assimilate or stay true to themselves." Arica Himmel heads the cast as "Bow" Johnson.
Here is ABC's night-by-night fall lineup:
Monday
Dancing with the Stars
The Good Doctor
Tuesday
The Conners
Bless This Mess
mixed-ish
black-ish
Emergence
Wednesday
The Goldbergs
Schooled
Modern Family
Single Parents
Stumptown
Thursday
Grey's Anatomy
A Million Little Things
How to Get Away with Murder
Friday
American Housewife
Fresh Off the Boat
20/20 (two-hour edition)
Saturday
Saturday Night Football
Sunday
America's Funniest Home Videos
Kids Say the Darndest Things
Shark Tank
The Rookie
ABC also has announced these midseason series:
The Baker and the Beauty
(drama) -- Daniel Garcia is toiling away in his Cuban parents' bakery until he meets international superstar and fashion mogul Noa Hamilton on a "wild Miami night." How will he and his parents handle Daniel's newfound spotlight, let alone a resultant "culture clash?" Victor Rasuk and Nathalie Kelley star.
For Life
(drama) -- A prisoner becomes a lawyer and then multi-tasks by litigating cases for fellow inmates while otherwise trying to overturn the life sentence he's serving. He also has a "complicated relationship with a progressive female prison warden." Inspired by the life of Isaac Wright Jr., with Nicholas Pinnock playing the lead.
United We Fall
(comedy) -- Touted as "profoundly realistic," it telescopes the "trials and tribulations" of Jo and Bill (Christina Vidal, Will Sasso), who have two young kids and standard issue pushy parents and in-laws. But Jo and Will "will always have each other's backs, united against everyone." I'm getting ill.
Email comments or questions to:
unclebarky@verizon.net