One more time: Seeing dead people in NBC's The InBetween
05/28/19 15:01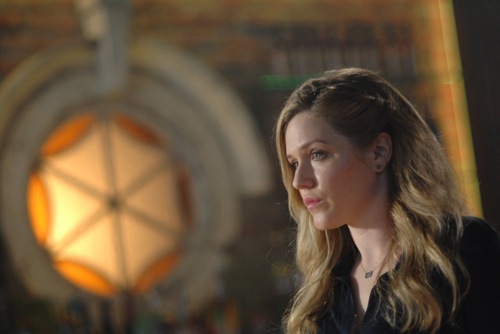 Harriet Dyer sees and talks to the dead in The InBetween. NBC photo
Premiering:
Wednesday, May 29th at 9 p.m. (central) on NBC
Starring:
Harriet Dyer, Paul Blackthorne, Justin Cornwell, Anne-Marie Johnson, Cindy Luna, Chad James Buchanan, Michael B. Silver, Sean Bolger
Produced by:
David Heyman, Moira Kirland, Nancy Cotton, Matt Gross
By ED BARK
@unclebarkycom on Twitter
There's nothing new to look at here, unless you're among those who haven't yet seen a TV series about a haunted woman who sees the dead and then aids or afflicts the living.
NBC's
The InBetween
, premiering on Wednesday, May 29th, follows in the paranormal steps of kindred spirits
Medium
and
Ghost Whisperer
. In this one, Cassie Bedford (Harriet Dyer) is a bartender whose recurrent, out-of-nowhere visions of victims and perpetrators help a pair of Seattle detectives solve otherwise impenetrable crimes. Bridging the weekly cases is a previously executed Texas killer named Ed Roven (Sean Bolger), whose calling card is a Peter Rabbit/Little Boy Blue verse. He keeps popping into Cassie's life, egging her on with the likes of "I help you, you help me." She wants nothing to do with him, but in effect can't live without this drawling creep when it comes to taking deep dives into various murders and abductions. The first two episodes were made available for review.
Cassie's principal steadying hand is veteran detective Tom Hackett (Paul Blackthorne), who with his husband, Brian (Michael B. Silver), once provided foster care for her. Hackett has just been a given a younger cop shop partner, Damien Assante (Justin Cornwell), who's skeptical of Cassie's unique powers until rather suddenly he isn't. Anne-Marie Johnson has a so far very minimal supporting role as boss lady Lt. Swanstrom, as do Cindy Luna and Chad James Buchanan as the detectives' helpers.
Deductions are made at a lightning quick pace while the scripts at times should be locked up. It's gasp-worthy in Episode 1 when a woman forensics specialist actually says, "If she was raped, he was polite about it." This is after it's determined that the assailant used a condom. There's still time for NBC to choke the life out of that line by removing it.
In Episode 2, one of detective Hackett's lines is simply banal. "I just hope we're not too late," he tells his partner as they race to save a life that you know they'll save. Later on, the jailed would-be killer intones, "Grief is a rabid animal you hold at bay."
Britisher Blackthorne otherwise gives the sturdiest performance while Dyer is called on to gasp a lot after being plunged into the thick of things via visions that sometimes put Cassie in serious physical danger until she returns to her senses. The premiere episode does have a fairly nifty case of misdirection, though.
The InBetween
, although it doesn't quite play dead, seems unlikely to survive beyond its summer run. This is basic paint-by-the-numbers storytelling despite the otherworldly premise. Both
Ghost Whisperer
and
Medium
had stronger grips and more interesting women as their center stage psychics.
GRADE:
C
Email comments or questions to:
unclebarky@verizon.net