HBO's Chernobyl miniseries exceeds extraordinary
05/06/19 10:35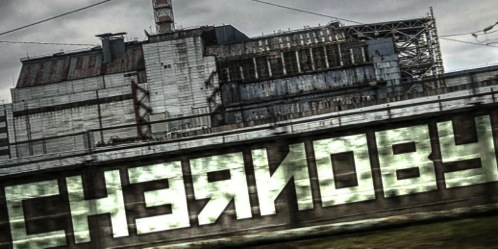 Power to the state, but not the people, in Chernobyl. HBO photo
Premiering:
Monday, May 6th at 8 p.m. (central) on HBO
Starring:
Jared Harris, Stellan Skarsgard, Emily Watson, Paul Ritter, Jessie Buckley, Adam Nagaitis, Con O'Neill, Adrian Rawlins, David Dencik
Produced by:
Craig Mazin, Carolyn Strauss, Jane Featherstone, Johan Renck, Chris Fry
By ED BARK
@unclebarkycom on Twitter
Somber to a fault, but never to its detriment, HBO's
Chernobyl
dares to collude with the misery, deprivation and dogged survival instincts of Russian people large and small.
Pleasant viewing it's not. But in terms of capturing a time and place, the five-part miniseries succeeds on every level. Initial viewer resistance is understandable. This is a grim and unsparing dissection of the April 26, 1986 catastrophe at the Chernobyl nuclear power plant in Pripyat. Never more so than when radiation-contaminated pets left behind in evacuated areas are hunted down, shot and dumped into a mass grave during a heartrending Episode 4.
Chernobyl
begins with its central character, Soviet nuclear physicist Valery Legasov (Jared Harris), hanging himself in despair after recording his last living testament of what really happened. One of his declarations rings all the more true today: "What is the cost of lies? It's not that we'll mistake them for the truth. The real danger is that if we hear enough lies, then we no longer recognize the truth at all."
The drama then rewinds to "Two Years and One Minute Earlier," with workers at the Chernobyl plant looking like they'd be equally at home in a butcher shop with their identical white smocks and hats. Chief among them is brusque Anatoly Dyatlov (Paul Ritter), who will have much to answer for in later episodes.
Although the reforms of newly appointed Mikhail Gorbachev (David Dencik) would soon begin to take hold, this was still very much the State-controlled Soviet Union, where dictatorial secrecy reigned supreme. In the early hours after the explosion, an elderly old-liner declares at an emergency meeting, "Keep matters of the state to the state . . . Yes, comrades, we will all be rewarded for what we do here tonight. This is our moment to shine."
At the outset of Episode 2, Legasov's contrarian view is first expressed at a high level meeting in which Gorbachev calls for adjournment after deducing that the situation in Pripyat "seems as if it's well in hand." The lethally radioactive chunks of graphite spit up by the severely damaged plant amount to bullets that will "not stop firing for 100 years," Legasov says. Gorbachev grudgingly allows him to investigate further at the scene of the disaster, but only in tandem with naysaying Soviet Deputy Prime Minister Boris Shcherbina (Stellan Skarsgard). Their initially very uneasy partnership gradually softens, with Skarsgard in brilliant form as the gravelly-voiced Shcherbina.
The two of them eventually have a third ally in Ulana Khomyuk (Emily Watson), a crusading nuclear physicist assigned to investigate the particulars of what happened inside the power plant on the night of its demise.
Smaller human stories also reverberate throughout
Chernobyl
. Called to the scene on the night of the disaster, young firefighter Vasily Ignatenko (Adam Nagaitis) is severely impacted by the radiation while his pregnant wife, Lyudmila (Jessie Buckley), battles bureaucracy in her efforts to both find him and see him.
There also are the hard-bitten coal miners recruited to perform heroic feats within the power plant while stripping naked to withstand the intense heat. And the stoic old woman who's milking her lone cow at the beginning of Episode 4 when she's ordered to evacuate. She's seen it all and repeatedly refuses, prompting a soldier to take further steps.
This otherwise is the episode of the dog patrols, with a stoic but humane commander firmly ordering a new recruit to shoot until they're dead -- "don't let them suffer."
Cigarette smoking and vodka shots go hand in hand with all of this.
Chernobyl
also fully captures the desolation at hand via washed-out colors and copious rubble. It's a complete and utterly believable immersion capped by a "trial" that from the outset has its guilty parties fingered. A vivid visual and printed postscript should not be missed.
For the time being at least,
Chernobyl
returns HBO to the forefront of networks (and streamers) daring to tell difficult stories of import without any seeming concerns about whether or not they'll be "hits." The hows and whys of the worst nuclear power plant disaster in world history are pertinent to anyone with a beating heart. HBO's extraordinary retelling of what went down in Pripyat and the then Soviet Union at large is its own reward for now -- and a certain multiple trophy winner during next year's awards season.
GRADE:
A
Email comments or questions to:
unclebarky@verizon.net