Fox's new season will say farewell to Empire and hello to wrestling
05/13/19 09:26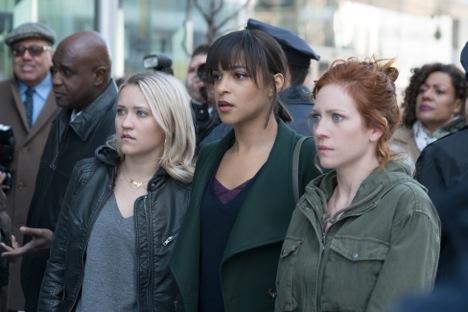 In addition to importing wrestling, Fox's three new fall series include Not Just Me, which could just as easily be titled #MeToo. Fox photo
By ED BARK
@unclebarkycom on Twitter
The Fox broadcasting network, newly under Disney ownership, announced a "start-up mindset" Monday that included news of onetime ratings juggernaut
Empire
being canceled after its sixth and final season concludes next year.
"We are redefining what it means to be an entertainment company, and what it means to be Fox, for 2019 and beyond," Fox Entertainment CEO Charlie Collier declared. Whatever that means.
Empire
likely will be without any further appearances by the embattled Jussie Smollett, who was written out of the series' final two episodes this season after his much-publicized alleged staging of a hate crime in Chicago, where the series is filmed. "At this point we have no plans" (for Smollett's return), although Fox still has a sixth season option on him, Collier said in a separate conference call with TV reporters.
Empire's
running mate,
Star
, also created and produced by Lee Daniels, surprisingly has been axed after three season. The other series in Fox's cancellation corral, some previously announced, are
The Cool Kids, Lethal Weapon, The Gifted, Gotham, Proven Innocent, The Passage, Rel
and
Mental Samurai
.
Fox has big plans, however, for
The Masked Singer
, its surprise midseason mega-hit. Season Three will launch following Super Bowl LIV on Feb. 2nd after the show's second season is paired this fall on Wednesday nights with a new drama series
Not Just Me
.
The network also announced that one of its midseason entries,
9-1-1: Lone Star
, starring Rob Lowe, is set to premiere on Sunday, Jan. 19th following the NFL's NFC championship game. It will then move to Mondays. The
9-1-1
spinoff is set in Austin but will be filmed in Los Angeles, save for a few exterior shots, a Fox spokesperson told unclebarky.com. Lowe plays a transplanted New York City cop.
Also of note:
WWE's Smackdown Live
will be filling Fox's entire two-hour programming block on Fridays this fall.
Last Man Standing
, which has been solidly leading off the night, will return sometime in midseason. This leaves Fox's new fall lineup without any live action sitcoms (starring human beings, not cartoon characters) for the first time in recent memory. Unless you count wrestling.
Here are Fox's three fall newcomers:
Not Just Me
(drama) -- Well, it's certainly not
The Brady Bunch
. Julia Bechley (Brittany Snow) thinks she's an only child until discovering that her father, Leon (Timothy Hutton), a fertility doctor, has used his sperm to conceive "upwards of a hundred children." For starters, Julia finds two of them, former best friend Edie Palmer (Megalyn Echikunwoke) and ex-Olympic athlete Roxy Doyle (Emily Osment). Fox says the series intends to explore "such hot-button issues as identity, human connection and what it truly means to be a family" while it "taps directly into the zeitgeist, harnessing the emotional complications that new generations of IVF-bred children all face." Got all that?
Prodigal Son
(drama) -- The offspring of a notorious serial killer dubbed "The Surgeon" is determined to deploy his "twisted genius" as the NYPD's new ace crime-solver. Tom Payne (
The Walking Dead
) stars as Malcolm Bright, with Michael Sheen (from Showtime's
Masters of Sex
) as his "predatory sociopath" dad, Dr. Martin Whitly. Lou Diamond Phillips chips in as detective Gil Arroyo.
Bless the Harts
(animated comedy) -- A dirt poor, upwardly striving Southern family toils in Greenpoint, NC. But hey, they're "already rich in friends, family and laughter." Featuring the voices of Kristin Wiig as single mother waitress Jenny Hart and Maya Rudolph as her "lottery scratcher-obsessed mother," Betty.
Here is Fox's night-by night fall schedule:
Monday
9-1-1
Prodigal Son
Tuesday
The Resident
Empire
Wednesday
The Masked Singer
Not Just Me
Thursday
Thursday Night Football Pregame Show
NFL Football
Friday
WWE's Smackdown Live
Saturday
Fox College Football
Sunday
NFL on Fox
The OT
The Simpsons
Bless the Harts
Bob's Burgers
Family Guy
Besides the aforementioned
9-1-1: Lone Star
, Fox has announced these midseason newcomers:
Deputy
(drama) -- Due to an "arcane rule in the county charter," a Wild West-type law enforcer takes charge of the Los Angeles County Sheriff's Department after the elected sheriff dies. Stephen Dorff (
True Detective
) heads the cast as true blue Bill Hollister.
Filthy Rich
(drama) -- This one's described as a "southern Gothic family drama in which wealth, power and religion intersect -- more correctly, collide -- with outrageously soapy results." Durable Gerald McRaney plays family patriarch Eugene Monreaux, with Kim Cattrall (
Sex and the City
) co-starring.
neXt
(drama) --
Mad Men
's John Slattery stars as Silicon Valley pioneer Paul LeBlanc, whose game-changing inventions have come at the expense of friends and loved ones. Alas, one of Paul's inventions could "spell doom for humankind" (and no, it's not Facebook). Seeking to make amends, he's thwarted by a ruthless younger brother who boots him from the company. And so on.
Duncanville
(animated comedy) -- Yes it's another cartoon series from the network of
The Simpsons
, now in its 199th season. Amy Poehler voices both 15-year-old, fantasy-obsessed Duncan and his mom, Annie, while Ty Burrell (
Modern Family
) provides the vocals for Jack, a "classic rock-obsessed" plumber father/husband.
The Great North
(animated comedy) -- Presenting the Alaskan adventures of the Tobin family, with voiceovers from the likes of Nick Offerman, Megan Mullally and Will Forte.
Outmatched
(comedy) -- A blue collar couple in Atlantic City struggle to raise four kids, three of them certified geniuses. Maggie Lawson and Jason Biggs head the cast as hapless parents Cay and Mike.
Ultimate Tag
(reality competition) -- Football-playing brothers JJ, TJ and Derek Watt host a "high-octane physical competition show based on the classic playground game of Chase." Fox says it's both thrilling and "energy-sapping."
Email comments or questions to:
unclebarky@verizon.net