Amazon Prime's Good Omens looks good, but doesn't play well
05/30/19 09:31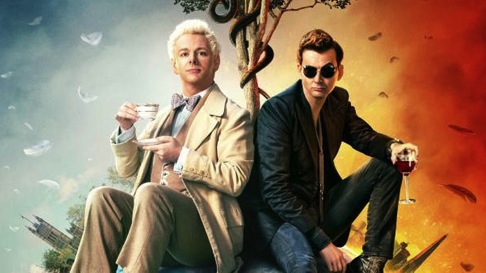 Michael Sheen and David Tennant winningly play a good/evil odd couple in the six-episode fantasy series Good Omens. Amazon photo
Premiering:
All six episodes begin streaming Friday, May 31st on Amazon Prime
Starring:
David Tennant, Michael Sheen, Jon Hamm, Miranda Richardson, Josie Lawrence, Anna Maxwell Martin, Michael McKean, Adria Arjona, Jack Whitehall, Mireille Enos, Nina Sosanya and the voices of Frances McDormand and Benedict Cumberbatch
Produced by:
Neil Gaiman, Caroline Skinner, Chris Sussman, Rob Wilkins, Rod Brown
By ED BARK
@unclebarkycom on Twitter
The End of the World is nigh -- yet again.
And as with TBS' recent and fantastically wobbly
Miracle Workers
, Amazon Prime's
Good Omens
is bolstered by marquee leads and a big, multi-media promotional push.
Miracle Workers
, which ran for seven half-hour episodes, deployed Steve Buscemi as a dimwitted but vengeful God and Daniel Radcliffe in the role of a shlepper toiling in heaven's Department of Unanswered Prayers. Clunk.
Good Omens
, adapted from a 1990 fantasy novel with a much longer title, features David Tennant and Michael Sheen upfront, but with some equally familiar names in supporting roles. They include Jon Hamm, Miranda Richardson, Michael McKean, Nick Offerman and the voices of Frances McDormand and Benedict Cumberbatch. It's also longer, with six episodes at about one hour apiece.
Amazon made all of them available for review. But rather than watch everything at hand, which is very much my usual practice, I lost patience after the first two hours and skipped ahead to the climactic Episode 6 to see if there's a resolution to this meandering bunch of basic nonsense. Yes, there's loopy closure. And others may be more willing to exert the considerable patience required to get there. Not me, though.
On the plus side,
Good Omens
has some great looking animation accompanying the opening credits. And the duo of Sheen and Tennant can be fun to watch amid all the murkiness, toggling through time and wealth of expositional narration by McDormand.
Good Omens
is certainly in no hurry. Its eye candy special effects help some, but not enough to keep the mind from wandering off in fairly short order.
Tennant, affixed with yellow eyeballs and a Bob's Big Boy hair-do, plays a demon named Crowley. He's been on Earth since the dawn of creation, initially as the snake that tempted Eve.
Sheen is the rather befuddled angel Aziraphale, who hangs out with Crowley and tries to bring out whatever good side he might have. They strive to save the world after an anti-Christ baby is birthed and an 11-year timetable is set before Armageddon kicks in. Hamm, as a sinister archangel Gabriel, is very bullish on a big, final battle, which would be triggered when the Hell Hound is unleashed to find its young master.
Diversions ensue. A lot of them. Starting with Episode 2, McKean drops in as the eccentric Witchfinder Sergeant Shadwell while Richardson plays Madame Tracy, who tries to consort with him. Add a blossoming young love story between Anathema Device (Adria Arjona) and Newton Pulsifer (Jack Whitehall). She's the last descendant of prophesying witch Agnes Nutter (Josie Lawrence) and he's a descendant of the witch finder who burned Agnes at the stake.
Good Omens
also has recurrent trips to heaven and hell while McDormand keeps talking. Episode 2 includes a gratuitous but by now expected dig at the male species. According to her, most people think that witches roam around naked. But that's only because the books about them are written by men. Witches on broomsticks remains a prevailing stereotype. But witches constantly in the altogether? This neanderthal has never once thought of them in that way. Have you?
Also included is a batch of
Stranger Things
-type kids striving to teach adults some lessons during the course of the all-over-the-place story at hand. And Mireille Enos (
The Killing
) drops in as one of the Four Horsemen of the Apocalypse, half of whom are women.
The concluding Episode 6 does feature one helluva oversized Satan, with Cumberbatch at the voice controls.
Good Omens
continues to have its special effects moments. But there aren't enough of them to overcome the basic tedium afflicting it. C'mon now, let's move this thing along, shall we? Alas, there's no real danger of that.
GRADE:
C+
Email comments or questions to:
unclebarky@verizon.net