TV Bulletin Board (Mon., March 28) -- next Ken Burns film will be on America's 2nd most divisive war
03/28/11 13:53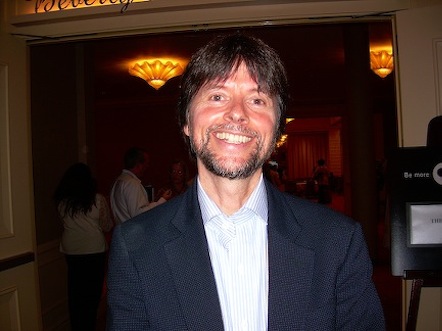 Ken Burns selling The War at summer 2007 PBS event. Photo: Ed Bark
By ED BARK
Having done that -- if not been there -- for
The Civil War
and World War II (via
The War
, PBS filmmaker Ken Burns is turning his elongated lens on Southeast Asia.
Scheduled to premiere in 2016, Burns' 10-12 hour documentary on the Vietnam War was announced Monday, with longtime collaborator Lynn Novick also in tow.
"Nearly everyone has an opinion about the Vietnam War, but few Americans truly know its history and there is little consensus about what happened there or why," Burns said in a publicity release. "Our series will shed light both on the history of the war, and on our inability to find common ground about it."
There in fact have been many movies and documentaries on Vietnam, although some might feel that it's officially "arrived" now that Burns is tackling the so-called "war of lost illusions," as it's described in the PBS release. Novick contends that the film she's making with Burns "will help heal the deep divisions that have endured in America for decades over this enormously controversial and tragic war."
That's assuming an awful lot, to say the least. Meanwhile, the 1990 film that made Burns famous,
The Civil War
, will be rebroadcast in its entirety next month, beginning Sunday, April 3rd on PBS. Burns and Novick also have a new film,
Prohibition
, scheduled to premiere this fall.
***
Fringe
fans rejoice. The J.J. Abrams sci-fi series has survived its initially dreaded shift to Fox's Friday night death slot and will return for a fourth edition.
"When we moved the show to Fridays, we asked the fans to follow and they did," Fox entertainment president Kevin Reilly said of the renewal. "We're thrilled to bring it back for another full season and keep it part of the Fox family."
Producer/creator Abrams initially told TV critics that the move to Fridays made him
"horrified beyond belief."
But he now "could not be happier that the fans of
Fringe
and our most excellent partners at Fox have allowed us to continue telling stories from the fringe for another season."
Abrams also is developing the potential fall series
Alcatraz
for Fox. The cast includes Sam Neill and Jorge Garcia from
Lost
, another series that Abrams put on the prime-time map.
***
Futurama
, the animated series birthed and canceled by Fox, is continuing to live long and prosper on Comedy Central. The network ordered 26 new episodes of
Futurama
on Monday, with the first batch of 13 due to launch in summer 2012 and the rest in summer 2013.