TV Bulletin Board (April 8) -- Barker, Streisand get royalty treatment on CBS
04/08/09 17:38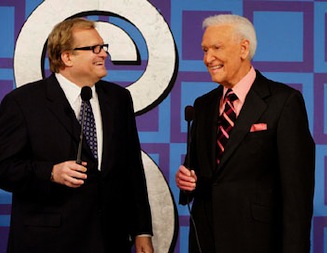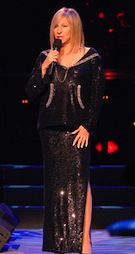 By ED BARKBob Barker
, plugging his autobiography
Priceless Memories
, will join host
Drew Carey
on the April 16th edition of CBS'
The Price Is Right
(10 to 11 a.m. central).
The network says Barker and Carey will share the stage for the first time on the Showcase Showdown portion of the venerable game show. Barker hasn't been back since he retired from
Price
in June 2007.
***
Another show biz icon,
Barbra Streisand
, will be feted by CBS with a reprise of her 2006
Streisand: Live In concert
special from Fort Lauderdale, Fla. She's also plugging something -- the release of the three-disc DVD of
Streisand: The Concerts
.
The CBS telecast is on Saturday, April 25th, with the DVD set due to be released on April 28.
***
ABC is the latest network to announce its sizzling summer schedule of mostly new and returning reality fare. In order of appearance, here it is:
May 25
--
The Bachelorette
returns with a two-hour opener starring former rejectee
Jillian Harris
, who had hoped to land
Jason Mesnick on a previous edition of The Bachelor.

May 25 -- Here Come the Newlyweds, hosted by comic Pat Bullard, premieres following The Bachelorette. Nine newly hitched couples vie for an unspecified "grand prize," with one pair sent home each week.

May 27 -- Wipeout returns, promising to be "bigger, better, wilder than ever." Your hosts are John Henson, John Anderson and Jill Wagner.

May 27 -- The Goode Family, a new cartoon series from Austin-based King of the Hill creator Mike Judge, stars a politically correct family determined to, among other things, "buy organic apples and call minorities by their right names." But alas, "something always goes haywire," says ABC.

June 23 -- Another premiere, The Superstars, pairs eight athletes from difference sports with a like number of celebrities. They'll compete in various events until only one team survives. The talent hasn't been named yet, but temper your expectations.

July 8 -- For some reason, I Survived a Japanese Game Show is returning.

July 20 -- Here comes Dating in the Dark, which asks, "Is love blind?" Somebody named Rossi Moreale hosts. Contestants will gather in a house, separated by gender, and "date" in a "completely dark room," says ABC. Then uh-oh, they see the light. Sounds like the guiltiest pleasure imaginable.

ABC also has announced the Saturday night dates in which it'll burn off remaining new episodes of the canceled Pushing Daisies, Eli Stone and Dirty Sexy Money.

Daisies will run from May 30 to June 13.

Eli Stone then gets June 20 to July 11 followed by Dirty Sexy Money from July 18 through Aug. 8.