TV Bulletin Board (May 27)
05/27/08 17:03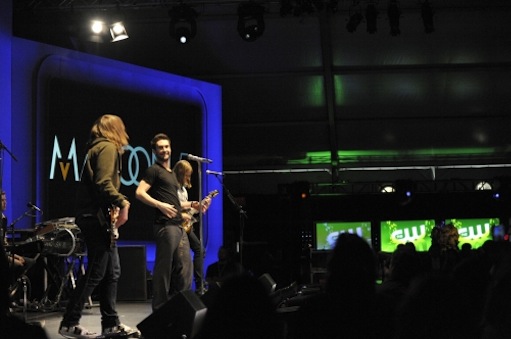 The inevitable Maroon 5 played at CW's "upfront" session in NYC.
By ED BARK
Details can't even be called sketchy. But The CW and its new Sunday night business partner, MRC (Media Rights Capital), at least have announced the titles and creators of four planned new series.
There's no casting announcements or footage yet, though. Production on all four shows supposedly will begin in mid-June, although a possible actors' strike might quickly stop any startups.
The new series are:
***
In Harm's Way
, a reality show about "people doing dangerous jobs" from
Dirty Jobs
producer
Craig Piligian
.
***
Surviving Suburbia
, a comedy about a "family and their new neighbors" from
Kevin Abbott
(
Roseanne
).
***
Valentine, Inc.
, a dramedy built around a dating agency that "finds lost loves, true loves and mends broken hearts." This one's from
Kevin Murphy
(
Reaper
).
***
Easy Money
, featuring a "family that runs a high-interest loan business." Producers
Andy Schneider
and
Diane Frolov
have
The Sopranos
in their blood among other dramas.