TV Bulletin Board (May 11)
05/11/08 22:02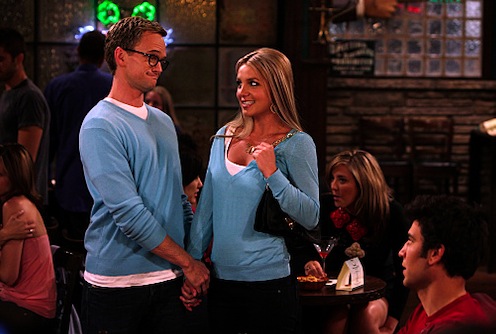 Neil Patrick Harris and Britney Spears re-pair on CBS Monday night.
By ED BARK
It's said that any mention of
Britney Spears
is still a surefire Web site traffic-driver.
That's right,
Britney Spears
, who will make her second guest appearance, as Abby, on the Monday (May 12) episode of CBS'
How I Met Your Mother
.
Ratings for the yet to be renewed sitcom spiked a bit when
Brit
first dropped in on March 24th.
***
Husband and wife
Jeff and Ally Davidson
of Dallas will be among 40 fresh meat "Contenders" when NBC's
American Gladiators
resumes with new episodes Monday (May 12). He's a 29 year-old financial advisor. She's a 24-year-old sales rep who supposedly tried out for
Gladiators
on her wedding day in her wedding veil without telling her groom.
As previously noted,
Gina Carano
, daughter of former Dallas Cowboys backup quarterback
Glenn Carano
, returns to the show as a Gladiator with the code name "Crush."
***
The annual "American Idols Live!" tour, with Rockwall's
Jason Castro
in tow, will make a stop in Dallas on Aug. 25th. The venue is American Airlines Center, and you can begin buying tickets on Saturday, May 17th via Ticketmaster.
***
Comedy Central is reviving
The Gong Show
, with comedian
Dave Atell
as host. It's scheduled to premiere on July 17th. On a somewhat higher plane,
Whoopi Goldberg
has been named to host the 62nd annual Tony Awards ceremony on CBS. The date is June 15th.
***
Spike TV, whose target audience is young males, has announced its latest "non-scripted development slate."
The eye-catcher is
Idiot Hall of Fame
, envisioned as a late-night half-hour series that "takes a humorous look at some of the most truly idiotic actions of all time."
Remember, only the "most truly idiotic actions" are eligible, which makes
Danny Bonaduce
's every waking moment a veritable candyland.
***
Spike somehow missed out on signing
Hulk Hogan
to preside this fall over
Hulk Hogan's Celebrity Championship Wrestling
.
CMT (Country Music Television) instead is doing these honors, with "10 adventurous celebrities" to be named later. Bonaduce obviously is a lock after previously participating in Fox's short-lived
Celebrity Boxing
series. For the record, Bonaduce TKO'd
Barry Williams
of
The Brady Bunch
after flooring him five times in the show's inaugural bout.