Bluff City Law gives NBC another go-around with Jimmy Smits -- and not a lot else
09/20/19 11:58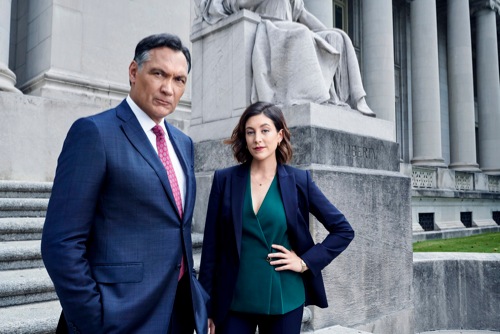 Jimmy Smits' familiar face is back anew in Bluff City Law. NBC photo
Premiering:
Monday, Sept. 23rd at 9 p.m. (central) on NBC
Starring:
Jimmy Smits, Caitlin McGee, Barry Sloane, Michael Luwoye, Stony Blyden, Jayne Atkinson, MaameYaa Boafo, Mo Gallini
Produced by:
Dean Georgaris, Michael Aguilar, David Janollari
By ED BARK
@unclebarkycom on Twitter
Jimmy Smits is nothing if not durable. But is he still wearing well? Here and there perhaps in his latest new drama series.
Affixed with either a bad jet black dye job, an ill-fitting toupee or both, the former standout cast member of
L.A. Law, NYPD Blue
and
The West Wing
is front and center again in NBC's
Bluff City Law
. Smits is now old enough to play the willful father of an estranged, hard-charging daughter in a series that's set in Memphis but otherwise plays
pro forma
.
Elijah and Sydney Strait (Smits, Caitlin McGee) have become attorneys at opposite ends. His law firm still represents the downtrodden while she's been successfully defending corporations. The sudden death of his wife and her mother finds them uneasily co-existing at her funeral. But Elijah begs her to return in the interests of "fightin' for what's right."
No, she retorts, because "two alphas just don't mix." And besides, "I don't like you, dad. Have you forgotten that?"
Dad's cheating on mom has something to do with this. But who's sorry now? He supposedly is. And in a relative finger snap, she agrees to a trial run with the firm she left behind. At stake is a lawsuit against a crooked corporation called AmeriFarm. One of their products, Green Coat, allegedly has left a longtime Hispanic user with terminal cancer. A multi-million dollar settlement is sought, and brassy Sydney is just the one to navigate this terrain when she's not getting tossed in jail for contempt of court.
Elijah's firm otherwise is well-populated with six other wrong-righters. His principal confidante is wizened Della Bedford (Jayne Atkinson), who pricks Elijah's conscience when necessary. Young gun Jake Reilly (Barry Sloane) likely is fated to be a love interest where Sydney is concerned. Or maybe it might be law firm colleague Anthony Little (Michael Luwoye). Or both.
Mood music constantly kicks in to alert viewers to something important, earnest or uplifting. As when Sydney asks her father, "How do you handle the pressure when winning or losing means everything?"
Elijah assures her that she "can change the world." Other than his previous philandering, he remains steadfastly dedicated to the common good, even citing the "moral arc of the universe" in his efforts to persuade a reluctant doctor to testify against AmeriFarm when everything otherwise seems lost. Hey, we've only got about 43 minutes of actual running time, so make up your mind quick, willya? She does.
No one should be surprised by the eventual verdict. But there is a bit of an unexpected twist at the end when one of Elijah's firm members turns out to also be his . . .
Smits is solid enough as the patriarch of
Bluff City Law
while McGee also makes her presence felt in some scenes. Overall, though, this is yet another same old, same old broadcast network drama series.
L.A. Law, NYPD Blue
and
The West Wing
all stood out as bracingly original during their long runs. Smits no doubt fondly remembers the thrill of discovery attached to each of them.
In contrast to those high points,
Bluff City Law
and its "Change the World" mantra aren't enough to prompt many if any to say, "Wow, did you see that?" Instead it's a case of Smits and NBC resolutely re-teaming without any real hopes of lighting anyone's fires.
GRADE:
C
Email comments or questions to:
unclebarky@verizon.net