Kicking, punching and in no need of rescue in ABC's Stumptown
09/25/19 12:59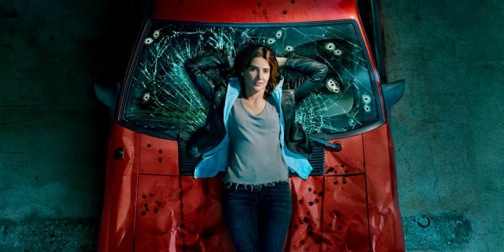 Cobie Smulders stars as a rambling wreck in Stumptown. ABC photo
Premiering:
Wednesday, Sept. 25th at 9 p.m. (central) on ABC
Starring:
Cobie Smulders, Jake Johnson, Tantoo Cardinal, Cole Sibus, Michael Ealy, Camryn Manheim, Adrian Martinez
Produced by:
Jason Richman, Ruben Fleischer, David Bernad, Greg Rucka, Matthew Southworth, Justin Greenwood
By ED BARK
@unclebarkycom on Twitter
Two previous sitcom inhabitants get top billing in ABC's tough-as-nails
Stumptown
.
The only one of real import is former
How I Met Your Mother
co-star Cobie Smulders. She leads her own charge as hard-drinking, tough-talking private investigator Dex Parios in times when the network openly boasts that "In the Great Tradition of ABC, All New Series Have Broadly Appealing Concepts With Strong Female Points of View."
You got a problem with that? #Metoo -- er, me neither. It's also best not to call Dex "ma'am." Because this ex-Marine and Afghanistan war survivor won't stand for that kind of crap.
Along for Dex's ride is Jack Johnson from
New Girl
as bar owner and platonic pal Grey McConnell. His principal function is babysitting Dex's sweet younger brother, Ansel (Cole Sibus), who has Down's Syndrome. Grey also tries to keep Dex on a semblance of an even keel, but isn't having much luck.
Set in Portland, Oregon and adapted from the same-named graphic novels by Greg Rucka,
Stumptown
begins with two bearded Neanderthals holding Dex captive in a car trunk. But she's soon battling them while the vehicle careens and screeches to the tune of Neil Diamond's "Sweet Caroline." Just after it gets airborne, we rewind to three days earlier to show how this all came to be. Dex is first seen fending off and then mocking a guy at Grey's bar who's transparently pretending to be a military veteran in hopes of getting her in the sack. Ya dumb sad sack.
Hard-pressed to make ends meet, Dex also likes to gamble at a casino run by taciturn Native American Sue Lynn Blackbird (Tantoo Cardinal). The two of them have an embittered past tied to Sue Lynn's late son, whose death she blames on Dex. But when her granddaughter goes missing, Sue Lynn asks Dex to track her captors down. An emphatic no becomes a grudging yes after brother Ansel asks plaintively, "Dex, are we gonna be OK?"
The rest of Wednesday's premiere episode veers back and forth story-wise almost as crazily as the show-starting wild ride. During the course of these events, Dex takes several punches to the face, strong-arms a guy into having sex with her and has flashbacks to some dark days in Afghanistan.
The regular cast also includes Michael Ealy (
2 Fast 2 Furious, Barbershop
) as detective Mike Hoffman and TV series vet Camryn Manheim as Lieutenant Cosgrove. But they're all basically extraneous to Smulders' aggressively assertive Dex.
That's the overall point and thrust of
Stumptown
, where a woman drinks, fights and has sex on her terms in the same manner numerous men did in an assembly line of earlier ABC action dramas. The storytelling usually wasn't all that hot either -- which is also true of
Stumptown
in the only episode made available for review. But as a ringing declaration of how it's going to be on ABC,
Stumptown
looks as though it will do just fine. On this network at least, men might want to get used to being supporting players while women keep flipping the scripts.
GRADE:
B-minus
Email comments or questions to:
unclebarky@verizon.net