Allison Tolman shines anew in ABC's Emergence
09/24/19 15:35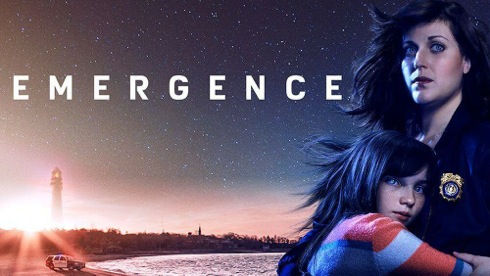 Mysterious kid, surrogate mom in the eerie Emergence. ABC photo
Premiering:
Tuesday, Sept. 24th at 9 p.m. (central) on ABC
Starring:
Allison Tolman, Alexa Swinton, Owain Yeoman, Donald Faison, Clancy Brown, Ashley Aufherheide, Robert Bailey Jr., Zabryna Guevara
Produced by:
Michele Fazekas, Tara Butters, Paul McGuigan
By ED BARK
@unclebarkycom on Twitter
Initial appearances could be deceiving because high hopes for broadcast network dramas go against the grain these days.
Based on the premiere episode alone, though, investing in ABC's
Emergence
looks like it could be a winning proposition. And even if the suspense and premise begin to sag, there's always Allison Tolman to keep hope alive. She brilliantly came out of nowhere as police officer Molly Solverson in Season One of FX's
Fargo
before holding up her end opposite an unruly, narrating canine in ABC's under appreciated
Downward Dog
.
The plus-sized Tolman is far from what used to be considered a conventional drama series lead. Otherwise she's a 10 from the opening bell as sturdy but shaken police chief Jo Evans, whose beat is a small Long Island community. On a night no one could have imagined, she's awakened by a mysterious plane crash after a preceding power failure.
Rushing to the scene, Jo finds a little girl (Alexa Swinton) curled on the ground and no worse for wear. She's soon dubbed Piper after the divorced Jo gives her shelter. The homestead also includes Jo's kindly father, Ed (Clancy Brown), a former firefighter recovering from cancer, and her daughter, Mia (Ashley Aufderheide). Unlike the bulk of TV kids, Mia is respectful and welcoming rather than bratty and resentful.
Ex-husband Alex (Donald Faison in his first post-
Scrubs
dramatic role of note) also figures in prominently during Tuesday's compelling premiere episode. While he tries to go with the increasingly weird flow, investigative reporter Benny Gallagher (Owain Yeoman) has his own initial theories about what happened and why. For starters, the crash site is almost instantly scrubbed clean while the mystical Piper either can't or won't remember how she emerged unharmed and where her parents might be. She also has a super power or two, with a closing scene that adds a
Stranger Things
vibe.
Tolman's performance is thoroughly grounded, particularly during an affecting, extended scene in which she gently tries to draw Piper out. "If I remember, will I have to go away?" the kid worries. "Because I want to stay."
And of course, she will, while others try to extricate Piper for reasons very much still unknown. ABC has gone down similar paths many times before with otherworldly serial dramas that end up punking viewers. The principal producers of
Emergence
, Michelle Fazekas and Tara Butters, previously helmed ABC's
Resurrection
and
Kevin (Probably) Saves the World
, neither of which lasted long or ended satisfactorily.
Emergence
literally could go anywhere, with even outer space not entirely out of the question. Having Tolman along for any and all rides is reason enough to hitch one yourself. Whatever comes of all this, she's a natural. Maybe this will finally be her star bright.
GRADE:
B+
Email comments or questions to:
unclebarky@verizon.net