TV Bulletin Board (Mon., May 23) -- MSNBC makes rare right turn with hiring of Michael Steele
05/23/11 17:01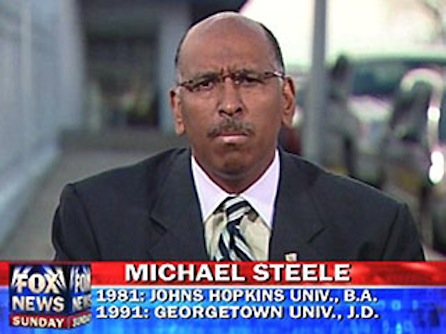 It'll be the end of days for Michael Steele on Fox News.
By ED BARK
MSNBC veered a bit off its latter day track Monday by announcing the hiring of former Republican National Committee chairman Michael Steele as a full-time political analyst.
"His strong voice and opinions will be a great addition to all of our programs," MSNBC president Phil Griffin said in a publicity release.
Steele's largely conservative views will clash with the network's contingent of liberal news analysis programs, which have multiplied in recent years as a counterpart to Fox News Channel's conservative agenda. Steele said he's looking forward to "engaging a diverse audience to share insights and analysis about the people, issues and events shaping America's future."
Steele apparently will make regular in-house appearances on left-of-center programs anchored by Chris Matthews, Rachel Maddow, Lawrence O'Donnell and Ed Schultz.
***
Showime has renewed Edie Falco's
Nurse Jackie
series for a fourth season, but won't be bringing back the multiple personalities of Toni Collette in
The United States of Tara
, which is currently in its third and now final season following
Jackie
on Mondays at 9:30 p.m. (central).