TV Bulletin Board (Thurs., May 26) -- MSNBC's Ed Schultz gets suspended while Kevin Costner joins the History family
05/26/11 10:30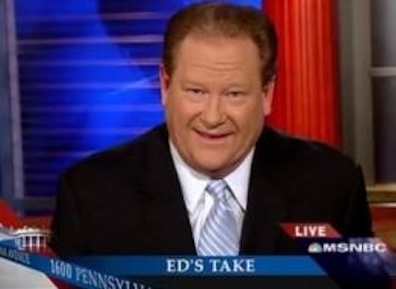 By ED BARK
"Progressive" talk show host Ed Schultz first used his radio show to call conservative commentator Laura Ingraham a "slut."
Then he used his Wednesday night edition of
The Ed Show
on MSNBC to profusely apologize before swallowing a one-week unpaid suspension.
Terming his terminology "vile and inappropriate," Schultz said in part, "I have embarrassed this company. This is the lowest of low for me."
It's tough to embarrass MSNBC anymore. The former home of Don Imus and Keith Olbermann would appear to be pretty much beyond that point.
Schultz's mea culpa is yet more evidence of the foot-in-mouth virus infecting the entire radio and TV talk landscape. Whatever the political bent, the genre increasingly smells like a skunk.
***
The History cable network recently announced it will bankroll a 10-hour
scripted series on the Bible
produced by
Survivor/Apprentice
creator Mark Burnett.
Now Kevin Costner will be acting out, too, as the star and co-producer of
The Hatfields and McCoys
, a miniseries scheduled to premiere sometime in 2012. Costner, who will play "Devil" Anse Hatfield, says he's "thrilled" to participate "in this dramatic re-telling of a classic and timeless tale that is forever immersed in the folklore of our country."