Marcia Clark's The Fix rekindles her O.J. obsessions
03/18/19 13:07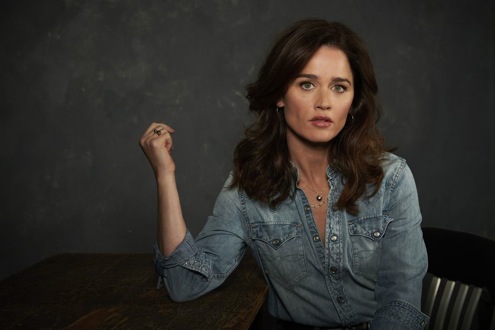 Robin Tunney as Marcia Clark, er, Maya Travis, in The Fix. ABC photo
Premiering:
Monday, March 18th at 9 p.m. (central) on ABC
Starring:
Robin Tunney, Adewale Akinnuoye-Agbaje, Scott Cohen, Adam Rayner, Merrin Dungey, Breckin Meyer, Mouzam Makkar, Alex Saxon, Marc Blucas, Chasten Hannon, Taylor Kalupa
Produced by:
Marcia Clark, David Hoberman, Elizabeth Craft, Laurie Zaks, Sarah Fain, Todd Lieberman
By ED BARK
@unclebarkycom on Twitter
Marcia Clark just can't or won't let it go. The money's too good.
Nearly a quarter-century removed from her less than stellar prosecution of O.J. Simpson at his 1995 murder trial, Clark strikes again with ABC's seemingly redemptive
The Fix
, which she both created and executive produces. The names and years have been changed but the basic storyline remains in place while the Marcia Clark cottage industry is at full throttle.
FX's acclaimed 2016 limited series
The People v. O.J. Simpson: American Crime Story
rehabilitated Clark to a large extent, with Sarah Paulson winning an Emmy for her portrayal and Clark beaming as her special guest at the awards ceremony.
While Simpson roams free anew, Clark also has written numerous legal novels, appeared as a cable news network analyst and hosted
Marcia Clark Investigates the First 48
for A&E. But at age 65, she's still clearly haunted by the one that got away. That's where
The Fix
comes in. Clark has described it as a "soapy, serialized roller coaster of a show" while also contending that its lead character is not a mockup of her. Objection, your honor. Objection sustained.
Robin Tunney stars as prosecutor Maya Travis, who's first seen in the final stage of a 2010 Los Angeles murder trial in which "mega-movie star" Severen "Sevvy" Johnson is accused of stabbing and killing his wife and her best friend. When he's shockingly found not guilty, head prosecutor Maya flees L.A. and in present-day has settled into the arms of a Monroe, WA rancher named River "Riv" Allgood (Marc Blucas).
But seconds after he's delivered a baby horse -- and she's offered to make him a BLT -- Maya's former prosecutorial partner, Matthew Collier (Adam Rayner), shows up with the news that "he did it again. You have to come back, Maya. This time we're going to get him."
Specifically, Revvy's girlfriend has been found bludgeoned to death. And he's now grousing about how "everybody's eyeballing me" at her funeral, which seems like the right thing to do under the circumstances. Maya is reluctant to dive in all over again, but Matthew says she's blameless for what happened the first time around because the sinister defense capitalized on "400 years of racial injustice and a celebrity client who knew how to break out a megawatt smile."
The real-life Clark no doubt sees it this way, too, although an ample number of critics, including Vincent Bugliosi and Jeffrey Toobin, have found her prosecutorial skills severely at fault in the Simpson case.
The Fix
faults Maya's ethics, not her courtroom skills. "She's tough but she fights fair. It's always been her weakness," says Sevvy's reptilian head defense attorney, Ezra Wolf (Scott Cohen), who's back for a second go-around after his celebrity client tells him, "I need ya. The bitch is back."
There's a problem here for ABC, and it has little to do with the self-serving nature of the series. Judged by his actions in the early going, Revvy indeed does seem guilty. But if
The Fix
ends up judging him so, does the network by implication convict Simpson as well? And if he again gets off, is ABC in effect exonerating Simpson? Because make no mistake, viewers are going to see this as O.J./Clark: Round Two -- and in fact are encouraged to do so.
A telling scene in Episode 2 further underscores the extent to which Clark strives to paint herself as the biggest victim of all. A co-prosecutor and onetime close friend named CJ Emerson (Merrin Dungey, sister of recently exited ABC entertainment president Channing Dungey) is still festering about Maya running out on her. To which a comically overwrought Maya retorts, "You have no idea what it felt like to be me eight years ago. Was your face on the news all day, every day? Was your entire life dissected? Your hair, your clothes, every single decision, every mistake? Nobody knows your name. Nobody blames you for letting a killer walk."
Not that Clark hasn't been very well-compensated since, beginning with a reported $4.2 million book deal to tell her story in 1997's
Without A Doubt
.
The Fix
, which basically tells her story again under the guise of fiction, also includes Breckin Meyer as self-aggrandizing district attorney Alan Wiest (squint and you might see the real-life Gil Garcetti) and Mouzam Makkar as a jealous prosecutor who consorts with the enemy.
The evil Wolf also has an amoral young "media guru" who's firm in his belief that anything can be staged for the benefit of an easily duped, social media- addicted public. Still, Episode 2's choreographed brunch with Sevvy and family members is a big stretch even in that context.
It's tempting to say that
The Fix
can be goofed on and lapped up in the way ABC's
Scandal
was for too many seasons. To its credit, it at least lurches forward rather than plodding along, with Maya at one point in tears about wanting to "see Sevvy Johnson rot" before events briefly break in his favor.
Whatever the outcome, though,
The Fix
hits too close to the bone. Whatever Marcia Clark's disclaimers, this is all about her and a case that remains dirty to the touch. Retrying Orenthal James "O.J." Simpson in the form of Severen "Sevvy" Johnson does not serve anyone well, particularly a complicit ABC. But it's a done deal, and everyone has already been paid their blood money.
GRADE:
C-minus
Email comments or questions to:
unclebarky@verizon.net