TV Bulletin Board (May 23)
05/23/07 18:13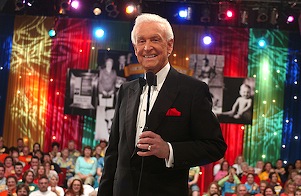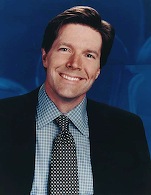 Bob Barker gets another big sendoff; Stone Phillips doesn't.
By ED BARK***
Fresh from two time slot-winning CBS specials last week, retiring
Bob Barker
will get a third when he hosts his last episode of
The Price Is Right
on Friday, June 15th. The farewell
Price
then will be repeated that same night in prime-time as a lead-in to the 34th annual Daytime Emmy Awards. Barker has two nominations, his 18th and 19th.
The 83-year-old game show legend is winding down his 50th year in television, the last 35 with
Price
. No one's been named to succeed him yet.
***
Cost-cutting measures at NBC have cost longtime
Dateline
anchor
Stone Phillips
his job. He's already been dropped from the program after 15 years and also is being let go by the network's news division. Phillips said in a statement that he's "profoundly appreciative of the many friends and colleagues, past and present, who have been a part of the
Dateline
family."
Ann Curry
will now be the show's main anchor.
***
It's getting ever-closer between Fox's
American Idol
and ABC's
Dancing with the Stars
. Tuesday's last
Idol
performance show of the season drew 25.2 million viewers while
Dancing's
results finale had 23 million viewers.
Idol
had a wider victory margin among advertiser-craved 18-to-49-year-olds, but ABC won the night overall in total viewers after Fox's post-
Idol
premiere of
On the Lot
plummeted to 8.5 million viewers nationally.
***
CBS has announced an array of presenters for the 61st annual Tony Awards, which it will telecast on June 10th. They include
Harry Connick Jr. Neil Patrick Harris, Angela Lansbury, Kevin Spacey, Usher, Felicity Huffman, Rainn Wilson, Bernadette Peters, David Hyde Pierce, William Petersen, Marg Helgenberger, John Turturro, Claire Danes, Carla Gugino, Anne Heche, Eddie Izzard, Audra McDonald, Vanessa Williams
and
Liev Schreiber
. There's no host this year.
***
Fox already has named its post-Super Bowl attraction for next year. It'll be
House
, starring
Hugh Laurie
. And CBS says that
Katie Couric
will moderate the final Democratic National Committee-sanctioned presidential debate on Dec. 10th from Los Angeles.
***
Encore will have a Memorial Day
Jaws
movie marathon, beginning at 4 a.m. central with the original
Steven Spielberg
classic. Following in order are
Jaws 2, Jaws III
and
Jaws: The Revenge
. That cycle will keep repeating throughout the day.
Also, Encore Westerns is presenting a mega-blast of
John Wayne
over the holiday weekend, beginning Saturday (May 26) at 11 a.m. central with
Chisum
. It'll then be wall-to-wall Wayne through Tuesday, with titles including
The Searchers, Texas Terror, The War Wagon, Cahill, U.S. Marshall
and frequent showings of a 15-minute mini-special titled
100 Years of John Wayne
.