TV Bulletin Board (Dec. 11) -- Michael Irvin goes from Super Bowls to "Superball Sunday"
12/11/08 10:23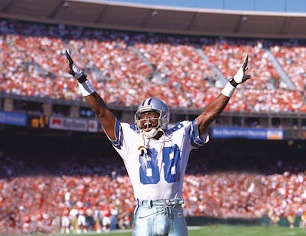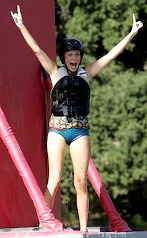 By ED BARK
Hall of Famer
Michael Irvin
played on three Super Bowl championship teams during his tenure with the Dallas Cowboys. But times change, and many an ex-Cowboy seemingly will do just about anything to stay in the limelight and collect another check.
Irvin therefore will be the "special guest sideline reporter" on ABC's
Wipeout Superball Sunday -- Cheerleaders Vs. Couch Potatoes -- The Wildest Wipeout Ever
. It'll go against NBC's Super Bowl XLIII halftime show, starring
Bruce Springsteen
. ABC then promises more "hilarious antics immediately following the game," opposite NBC's one-hour edition of
The Office
.
Wipeout
, a ratings success this past summer for ABC, is best known for its big red ball obstacle course. So get ready for the "first ever appearance of the
Wipeout
Big Ball mascot." Maybe that could be
Nate Newton
.
***
In other ancillary Cowboys news, TXA21 hopes to pop your eyeballs with its one-hour
The Making of the 2009 Dallas Cowboys Cheerleaders Swimsuit Calendar
, cannily scheduled opposite
Saturday Night Live
on Saturday, Dec. 13th at 10:30 p.m.
The special will chart the Cheerleaders' "seven-day journey" to Mexico's Riviera Nayarit, where the skin games begin.