TV Bulletin Board (Tues., March 2) -- Dallas flyboy goes from kiss 'n' tell to hoof 'n' puff
03/02/10 08:37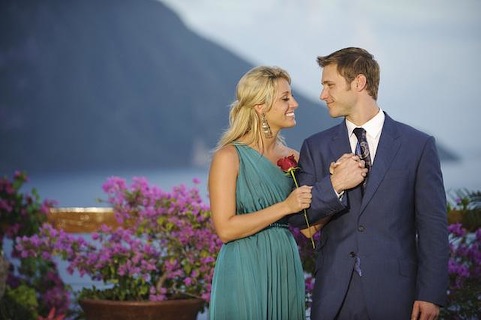 Dallas pilot Jake Pavelka decided to board Vienna Girardi on Bachelor finale. That left both Pavelka and runnerup Tenley Molzahn in tears. Pavelka now segues to Dancing with the Stars. ABC photo
By ED BARK
Another cringe-worthy, nausea-inducing edition of ABC's
The Bachelor
climaxed Monday with studly Dallas pilot
Jake Pavelka
proposing marriage to scandal-tinged
Vienna Girardi
, who immediately accepted.
Pavelka then did what any self-respecting
Bachelor
-ite does these days -- agree to be a contestant on ABC's
Dancing with the Stars
, which returns on March 22nd with its 10th edition.
The latest batch of celebrity hoofers was announced during
The Bachelor
, with former Dallas Cowboys cheerleader and
Bachelor/Dancing
alum
Melissa Rycroft
joining host
Tom Bergeron
for the festivities.
Rycroft, famously jilted on an earlier installment of
The Bachelor
, finished third on last spring's eighth
Dancing
. She then was named a correspondent for ABC's
Good Morning America
.
Rycroft's appearance with Bergeron fueled speculation that she'll be replacing
Samantha Harris
as the show's co-host. Harris announced she's leaving the show to devote more time to her co-hosting duties on
The Insider
, a syndicated rag mag that makes even
Entertainment Tonight
seem like the Encyclopedia Brittanica. ABC hasn't officially anointed Rycroft yet.
Back briefly to
The Bachelor
, where Pavelka handed Girardi the show's final rose while stationed high atop Jade Mountain in picture-perfect St. Lucia.
He earlier lowered the bloom on a seeming Tess Trueheart named
Tenley Molzahn
. His parents and siblings unanimously had sided with Molzahn and found Girardi to be snippy and vacuous. But Pavelka in the end settled on the woman whom
US Weekly
recently lionized in a "Vienna's Double Life" cover story that included dish on "Dirty dancing in bars for tips" and "A secret celebrity fling," etc. To be fair, Molzahn also got an after-thought mention in a "What Tenley's Hiding" blip at the bottom of the cover.
Pavelka told Bergeron Monday night that his fiancee is "on board 150 percent" with the idea of his teaming up with a sculpted, oft-scantily clad pro dance partner. Specifically, that'll be
Chelsie Hightower
, who will be returning for her third go-around on
Dancing
.
Here are the 10 other celebrities and their pro partners:
***
Reality show star
Kate Gosselin
, recently of TLC's stormy
Jon & Kate Plus 8
(with pro partner
Tony Dovolani***
Recently crowned Olympic men's figure skating champion
Evan Lysacek
(with
Anna Trebunskaya
)
***
Loquacious Cincinnati Bengals receiver
Chad Ochocinco
(with
Cheryl Burke
)
***
Aging, oft-married sexpot
Pamela Anderson (with Damian Whitewood)

***Former Beverly Hills, 90210 bad girl Shannen Doherty (with Mark Ballas)

***Ex-moon lander Buzz Aldrin (with Ashly Costa)

***Scandal-prone ESPN host Erin Andrews (with Maksim Chmerkovskiy)

***Comedian/actor/host Niecy Nash (with Louis Van Amstel)

***Soap star Aiden Turner (with Edyta Sliwinska)

*** Former Pussycat Doll Nicole Scherzinger (with Derek Hough)