Netflix's The Highwaymen is suitably star-driven by Costner and Harrelson
03/28/19 11:55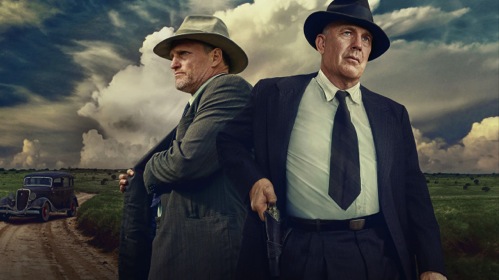 Fabled Texas Rangers played by Woody Harrelson and Kevin Costner have Bonnie and Clyde in their sights in
The Highwaymen
. Netflix photo
By ED BARK
@unclebarkycom on Twitter
Trumpeted as "the untold story" of the "legends who took down Bonnie & Clyde," Netflix's
The Highwaymen
in fact isn't the first film to give famed Texas Ranger Frank Hamer a fair shake.
Although ridiculed in Arthur Penn's classic 1967
Bonnie and Clyde
feature film, Hamer was treated with all due respect in the far lesser known 2013
Bonnie & Clyde miniseries
, which received a three-network showcase on A&E, Lifetime and History. William Hurt played Hamer, and he certainly was no joke in his zeal to both de-glamorize and bury his prey. The original
Bonnie and Clyde
movie had a completely invented scene in which Faye Dunaway's Bonnie Parker stroked her pistol over a captured and sillified Hamer's (Denver Pyle) mustache. in the
Bonnie & Clyde
miniseries, Hamer is an all-business manhunter without an ounce of ineptitude.
What
The Highwaymen
does do, however, is devote far more time and star power to the stories of Hamer and his partner, Maney Gault. They're respectively played by Kevin Costner (slowly but surely morphing into an amalgam of John Wayne and Clint Eastwood) and the ever-interesting Woody Harrelson. Both are Rangers put out to pasture until high sheriff Lee Simmons (John Carroll Lynch) persuades dictatorial Texas governor "Ma" Ferguson (Kathy Bates) to try another approach after Bonnie and Clyde have been killing, robbing and running wild for two years.
It turns out to be a long pull, with
The Highwaymen
(
streaming on Friday, March 29th
) devoting two-plus hours to the dogged but at times congealing Hamer/Gault trackdown. Bonnie and Clyde are shown in closeup only at the very end, when their latest roadster famously is riddled with bullets on a rural road in Bienville Parish, LA. They're otherwise fleetingly seen stick figures, with
The Highwaymen
virtually shouting out that these two already have received more than enough exposure. (For the record, they're played inconsequentially by Emily Brobst and Edward Bossert.)
Hamer is first seen with his pet hog outside the out-of-the way home he shares with his understanding wife, Gladys (Kim Dickens). "I'll come back," he tells her before she dutifully packs him a lunch. A man's gotta do what a man's gotta do. Back in 1934, you could still take that to the bank.
Meanwhile, Gault is drinking and decaying on a for sale farmhouse he shares with his daughter and grandson. He hooks up with Hamer, whom he calls "Pancho," after the latter purchases an armory's worth of weapons at a small town gun shop. Hamer at first doesn't want him along, but relents in the face of Gault's pitiful, pleading countenance. "Aw, Judas Priest, get in. But no singin'," Hamer demands before they ride off. In the next scene, Gault of course is singin'.
Flinty, grumpy and wizened, Hamer says there's one sure thing about both outlaws and mustangs. "They always come home." So that's where they increasingly concentrate their efforts.
Hamer has his opinion about car radios, too. They're "just an intrusion on a man's peace and quiet."
Gault occasionally fires back, but mostly defers. As when Hamer beats up a recalcitrant gas station owner who falsely claims he's never seen Bonnie and Clyde while also proclaiming himself a fan of both.
Both Costner and Harrelson eventually get extended soliloquies in which they emote about their violent pasts. Hamer tells his story to Clyde Barrow's father while Gault unwinds during a poker game. It all feels a little dated, but perhaps shouldn't. Straight-ahead storytelling is becoming a lost art of late, but
The Highwaymen
is dedicated in that respect. It's going to stay in its lane, swerving only during a car chase in which the two lawmen end up literally left in the dust.
Netflix resurrected
Longmire
from cancellation with the full knowledge that it would continue to draw an older but no less appreciative audience.
The Highwaymen
similarly won't be breaking ground with many younger viewers on a service that frankly doesn't and shouldn't give a damn. Viewers of all ages pay those monthly subscription fees, and Netflix churns out more than enough original programming to cast a wide net over all generations.
Landing Costner and Harrelson for the same movie also qualifies as another notch on the Netflix belt in times when a wealth of current and soon to be launched streaming services are all trying to out-shout one another. As a film,
The Highwaymen
has some potholes. But as an eye-catching, promotable and heavily watched attraction, it seems sure to go the extra mile.
GRADE:
B-minus
Email comments or questions to:
unclebarky@verizon.net