Sperm-sharing on a grand scale (with parental guidance needed) in Fox's appealing Almost Family
10/02/19 10:58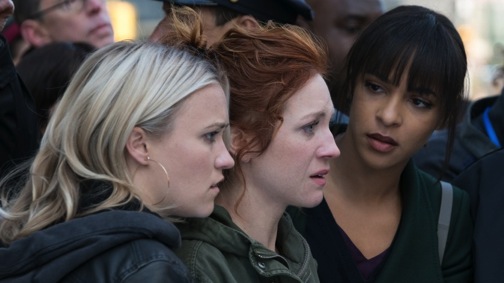 Suddenly a sister act in the serial drama Almost Family. Fox photo
Premiering:
Wednesday, Oct. 2nd at 8 p.m. (central) on Fox
Starring:
Brittany Snow, Megalyn Echikunwoke, Emily Osment, Timothy Hutton, Mo McRae, Mustafa Elzein, Victoria Cartagena, Chris Conroy
Produced by:
Jason Katims, Annie Weisman, Jeni Mulein, Imogen Banks, Sharon Levy, Leslye Headland
By ED BARK
@unclebarkycom on Twitter
Standout performances and what looks to be a sure-fire, durable premise give Fox's
Almost Family
the key ingredients of a potentially long-running, soapy serial drama.
They weren't as sure-handed with the title, though, segueing from
Sisters
to
Not Just Me
before settling on this third rather generic choice.
His Sperm Runneth Over, America's Baby Daddy
or
Test Tube Roulette
apparently were never seriously considered.
Here's the deal. Renowned Dr. Leon Bechley (Timothy Hutton) runs a fertility clinic that bears his name. His only daughter -- or so she thinks -- toils unhappily for him as a "glorified secretary." But Julia (Brittany Snow) is shocked to learn that Dad secretly has been using "material that I knew to be successful" in the interests of impregnating perhaps hundreds of women. For starters, though,
Almost Family
focuses on just two of his potential offspring, both of whom share Julia's "tooth tap" reflex.
Edie Palmer (Megalyn Echikunwoke) is a criminal defense attorney whose principal law firm partner is her husband, Tim (Mo McRae). Self-absorbed, former star Olympic gymnast Roxy Doyle (Emily Osment) is addicted to both her social media profile and pain-killers while her parents continue to exploit her as a mealticket. Roxy's father, who suddenly doesn't fit that title anymore, is played by former
thirtysomething
star Timothy Busfield. He's now sixtysomething. It happens.
In Wednesday's eventful premiere episode, Leon is honored at a big banquet, has a heart attack, is arrested immediately upon discharge and learns that his conduct "rises to the level of sexual assault" in the view of aggressive prosecutor Amanda Doherty (Victoria Cartagena). It's all one big "witch hunt," he carps. Harrumph.
Meanwhile, the sexually aggressive Amanda also is out to get Edie, whose newly discovered dad is now also her client. In Episode 2, she boldly asks Edie over drinks, "Where do you fall on the lesbian spectrum?" Well, it turns out she falls pretty hard. Which leaves husband Tim, who used to date Julia, wondering why their sex life lately has dried up.
Although it's an ensemble cast, Snow's Julia so far is the show's key presence. Whether exasperated, resentful, vulnerable or quippy, she has a firm grip on the demands of this role. Bratty but insecure Roxy, who's seldom far from a selfie stick, is likewise in good hands with Osment. The still formidable Hutton deftly balances deviousness and entitlement while Echikunwoke's Edie outwardly seems all-business but inwardly is in turmoil regarding her sexual identity.
Principal executive producer Jason Katims also has been at the throttle of two critically acclaimed NBC series,
Friday Night Lights
and
Parenthood
. His latest endeavor juggles fewer story lines for starters, but they easily might multiply in future hours.
Almost Family
, should it choose to do so, could unveil a new sibling of the week. And Julia has just such a nightmare at the start of Episode 2. For now, though, the main ingredients are three half-sisters getting to know one another while their widowed father keeps them guessing about whether he really means anything he says. Your guess is as good as theirs.
GRADE:
B
Email comments or questions to:
unclebarky@verizon.net