TV Bulletin Board (Tues., Oct. 7th) -- Twin Peaks anew plus an American Crime Story anthology series starting with O.J. Simpson
10/07/14 16:08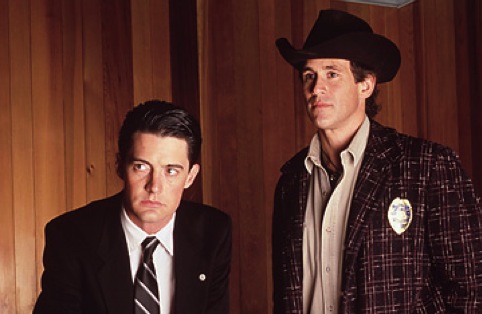 Agent Dale Cooper and Sheriff Harry S. Truman of Twin Peaks.
By ED BARK
@unclebarkycom on Twitter
ABC's most distinctive, offbeat drama series of the past quarter century is getting a makeover.
It's going to be showtime -- on Showtime -- for
Twin Peaks
, with creator David Lynch returning to direct all nine episodes. Production is due to start in 2015, with an air date sometime in 2016. No cast has been announced yet, but a Showtime publicity release says the new version will be "set in the present day" and "continue the lore of the original series, providing long-awaited answers for the series' passionate fan base."
It's very much an open question whether Lynch is capable of providing definitive "long-awaited answers" to anything. The original
Twin Peaks
, which premiered in April 1990, flamed out after two seasons in part because of a wildly veering, nonsensical storyline that eventually turned off many of the show's core viewers.
Ah, but it was exhilarating at first, with Kyle MacLachlan breaking through in a big way as quirky Agent Dale Cooper. His fondness for cherry pie and a cuppa black steaming joe became two of the show's trademarks while he more or less doggedly sought an answer to "Who killed Laura Palmer?"
Showtime says it will repeat all of the original
Twin Peaks
episodes before its remake airs. Or if you have Netflix, you can start watching all 30 of them right now.
***
On the eve of its Wednesday, Oct. 8th launch of
American Horror Story: Freak Show
, FX announced that series creator Ryan Murphy also will be behind a companion anthology series,
American Crime Story
.
The first 10-episode installment, subtitled
The People V. O.J. Simpson
, is adapted from
Run For His Life
by Jeffrey Toobin. There's no announced cast yet.
Email comments or questions to:
unclebarky@verizon.net