TV Bulletin Board (March 21)
03/21/08 14:04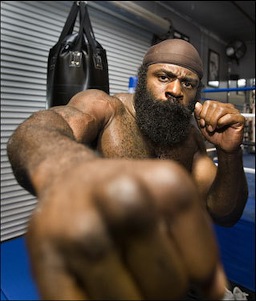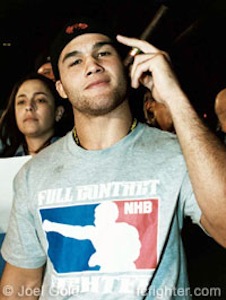 New faces of CBS: Kimbo Slice and "Ruthless" Robbie Lawler.
By ED BARK
Saturday's a throwaway night for network TV anyway. So why not really throw it away with the new
CBS EliteXC Saturday Night Fights
.
It premieres May 31st, with mixed martial arts champ
"Ruthless" Robbie Lawler
scheduled to defend his middleweight title against
Scott "Hands of Steel" Smith
.
The intriguingly named
Kimbo Slice
also is on the card, although his opponent hasn't been named yet. Perhaps Homeboy Hamhock?
CBS programming exec
Kelly Kahl
says the network is "excited" to showcase "the unique personalities, world-class athleticism and raw power and emotion that characterizes mixed martial arts." All righty then.
***
On a somewhat higher plane, ABC News will be hosting live verbal combat between Democratic presidential hopefuls
Barack Obama
and
Hillary Clinton
. Fight night is April 16th, just six nights before the possibly pivotal Pennsylvania primary.
ABC's
Charles Gibson
and
George Stephanopoulos
will moderate the 90-minute debate from Philadelphia's National Constitution Center.
***
The first two chapters of HBO's exceptional
John Adams
miniseries got off to a solid start Sunday with 2.7 million viewers. That's not much by conventional broadcast standards, unless you're the teeny CW network. But it's considerably better than the 1.1 million who watched the previous Sunday's series finale of
The Wire
.
John Adams
, adapted from the
David McCullough
bestseller, starts
Paul Giamatti
in the title role and
Laura Linney
as his wife, Abigail. It will continue for the next five Sundays on HBO.
Meanwhile, the network knows how to both stick it to
The New York Times
while at the same time paying handsomely for a full-page color ad in the newspaper's Friday "Weekend Arts" section.
The ad is loaded with rave reviews from all of the
Times
' Big Apple competitors plus other publications. Notably missing is anything from the
Times
itself, whose reliably addled TV critic,
Alessandra Stanley
, may have been the only reviewer in the world to flat-out pan Giamatti's performance.
She also somehow confused measles with smallpox in her critique. And that's not easy to do.