TV Bulletin Board (Sept. 17)
09/17/07 15:56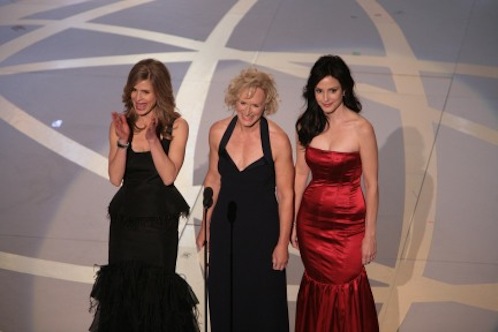 Cable golden girls Kyra Sedgwick, Glenn Close, Mary-Louise Parker
By ED BARK
Preliminary "fast national" Nielsens indicate that Sunday night's Emmy telecast on Fox will be the second smallest draw in the awards' 59-year history.
The annual trophy giveaway averaged 13.1 million viewers, ranking ahead of only the 1990 prime-time ceremony on Fox, which drew 12.3 million viewers. Last year's awards on NBC, which aired in late August and didn't have to compete against a pro football game, drew 16.2 million viewers.
Emmy's best showing, in years for which total viewer numbers are available, came in 1986 on NBC. The ceremony lured 35.8 million viewers that year. But Emmy hasn't topped 20 million viewers since 2000, when 21.8 million watched the ABC telecast.