TV Bulletin Board: (April 16)
04/16/07 14:02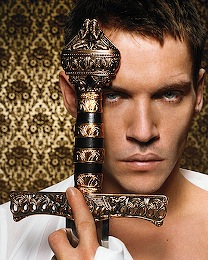 MSNBC's Keith Olbermann and Showtime's Henry VIII get big boosts.
By ED BARK***Keith Olbermann
, close, personal fiend of
Bill O'Reilly
, is getting a high-profile spot as a new co-host of NBC's
Football Night in America
.
Olbermann, who will continue with his weeknight
Countdown
show on MSNBC, joins
Bob Costas, Cris Collinsworth, Jerome Bettis
and
Tiki Barber
on the Sunday night telecast. Out is
Sterling Sharpe
.
Known for being blunt-spoken, Olbermann blazed trails in sports journalism on ESPN's SportsCenter, where he teamed with
Dan Patrick
from 1992 to 1997. His last regular sports work was in 2001 with Fox.
Countdown
, scheduled directly opposite Fox News Channel's
The O'Reilly Factor
, has jumped from 404,000 viewers in the "First Quarter" (Jan.-March) of 2006 to 711,000 for the same period this year. The show regularly rips O'Reilly, who has returned fire and called for Olbermann to be fired.
***
Showtime has renewed
The Tudors
, starring
Jonathan Rhys Meyers
as a svelte, beardless Henry VIII. The series premiered on April 1 to generally favorable reviews and still has seven episodes remaining in its freshman season.
The premium cable network also is giving
Ira Glass's
this American Life
a second season and has greenlighted a sketch comedy series starring
Tracey Ullman
. And it's come up with a title for a previously announced comedy headlined by former
X-Files
star
David Duchovny
. In
Californication
, he'll play a self-destructive novelist trying to raise his 13-year-old daughter while still pining for an old girlfriend.
***
No late night comedian has a funnier opening monologue than
Conan O'Brien
. Here are five recent laughers:
"
Camen Elektra
has agreed to host a TV show where women wrestle each other naked. It's just one of several format changes in store for the new season of
This Old House
."
"Scholars who participated in a documentary called
The Lost Tomb of Jesus
are now saying that the tomb did not belong to Jesus. New evidence reveals that the tomb actually belongs to Jesus' cousin, Larry Christ."
"A judge in Indiana ruled this week that schools cannot punish students for things they write on their MySpace pages, because it's protected by free speech. This ruling was made in the case of 'The People vs. that skank Sheryl'."
"In a new interview, singer
George Michael
announced that despite repeated requests, he will never be part of a reunion of the '80s group Wham. In case you're curious, the repeated requests have all come from the other guy in Wham."
"Edy's ice cream company has come out with five new flavors inspired by
American Idol
. The least popular flavor:
Paula Abdul's
Cookies n' Cream n' Pills n' Booze."