TV Bulletin Board (Thurs., July 2) -- ReelzChannel to the rescue (again)
07/02/15 12:34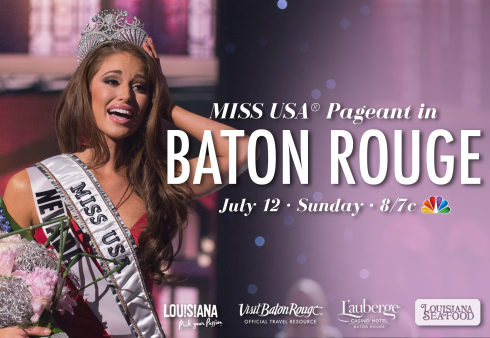 No longer operative on NBC or Univision, it'll be on ReelzChannel.
By ED BARK
@unclebarkycom on Twitter
The still obscure ReelzChannel again has stepped in as an adoption agency for orphaned TV programming.
It will proudly present the Donald Trump-tainted Miss USA pageant on July 12th after Univision backed out and NBC followed suit four days later.
Stan E. Hubbard, CEO of the Minnesota-based cable network, announced on Thursday that acquiring the rights to the pageant is "based on our belief that this special event, and the women who compete in it, are an integral part of American tradition. As one of only a few independent networks, we decided to exercise our own voice and committed ourselves to bringing this pageant to American viewers everywhere."
Networks, hosts and judges began bailing on the Trump-owned pageant after his heavily publicized slams at Mexican immigrants during his June 16th announcement that he's running for president as a Republican.
"When Mexico sends its people," he said, "they're not sending the best. They're sending people that have lots of problems and they're bringing those problems. They're bringing drugs, they're bringing crime. They're rapists and some, I assume, are good people. But I speak to border guards and they're telling us what we're getting."
In 2011, ReelzChannel picked up
The Kennedys
miniseries after History Channel paid for its production and then decreed it "not a fit for the brand." The 8-hour production, which starred Greg Kinnear, Katie Holmes, Tom Wilkinson and Barry Pepper, ended up receiving 10 Emmy nominations and won four.
There's possibly more work to do for ReelzChannel on the abandoned programming front. The TV Land network this week yanked reruns of
The Dukes of Hazzard
because its signature General Lee vehicle has a Confederate flag on its roof. Co-star John Schneider angrily told
The Hollywood Reporter
, "Are people who grew up watching he show now suddenly racists? Will they have to go through a detox and a 12-step program to kick their
Dukes
habit?"
For now, ReelzChannel also is home to
Hollywood Hillbillies
, its most popular program, as well as
Branson's Taxi, Master P's Family Empire, Celebrity Damage Control
and repeats of
Access Hollywood Live
.
Its most immediate challenge, in light of the Miss USA pageant acquisition, will be finding identifiable people to host and judge it. Dropouts include previously announced hosts Cheryl Burke and Thomas Roberts (an anchor for MSNBC), and former Dallas Cowboys star Emmitt Smith, who had signed on as a judge.
***
NBC has renewed one serial killer and canceled another. The network's summer series
Aquarius
, starring David Duchovny and built around the pursuit of Charles Manson, is getting a second season. But
Hannibal
has been axed in its third season after being eaten alive in the prime-time ratings. For now, though, new episodes continue to air on Thursday nights.
Email comments or questions to:
unclebarky@verizon.net