TV Bulletin Board (March 13)
03/13/07 10:33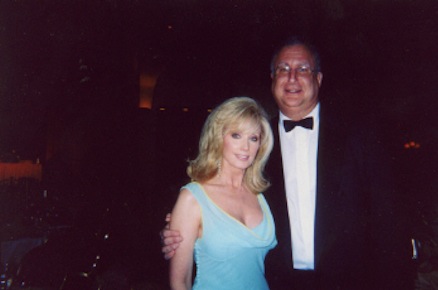 Rick Kaplan with Dallas' own Morgan Fairchild at the 2005 White House Correspondents gala. He's now Katie Couric's overseer.
By ED BARK***Rick Kaplan
is an old hand at this point, but hardly an old softie. Both volatile and well-traveled, his latest challenge is to take
Katie Couric's
CBS Evening News
out of its current ratings valley.
Kaplan, who left the top spot at MSNBC last June after a two-and-a-half-year tour, has replaced calmer
Rome Hartman
as executive producer of the
Evening News
. He's also been president of CNN (1997-2000) and earlier had an appreciably longer stay at ABC News, where he helmed the network's
World News Tonight with Peter Jennings
.
Kaplan, a substantial 6 foot 7, is no mild-mannered Clark Kent. Nor has he shown much staying power of late. He's pretty much a hired gun at this point, but won't shrink from changing up the
Evening News
and clashing with Couric if necessary. Flies on the wall rarely have it this good.
The
Evening News
ranked a distant third in the February "sweeps," more than two million viewers behind the frontrunning
ABC World News with Peter Jennings
. Slipping to second was the
NBC Nightly News with Brian Williams
, which also recently hired a new executive producer.
Until recently,
Nightly News
had remained No. 1 since Williams succeeded
Tom Brokaw
in December 2004. Couric has anchored the
Evening News
since Sept. 5.
***
Maybe no one cares, but CNN's most prominent anchor/correspondent,
Anderson Cooper
, still can't seem to plant himself firmly in the journalism sector. In 2001 he joined CNN with baggage in hand after hosting
The Mole
reality series while at ABC.
CNN has spent untold publicity dollars positioning Cooper as its star newsie. But he still sometimes veers off to sub for
Regis Philbin on the syndicated Live with Regis & Kelly. Now he'll be hosting HBO's Jerry Seinfeld: The Comedian Award from Caesar's Palace on April 1. Oddly, it was taped way back in November 2005, with Chris Rock, Garry Shandling and Robert Klein also joining Cooper onstage.

In a January interview with unclebarky.com, CNN International president Jim Walton said the network has no problem with Anderson's forays into the entertainment world. "It's a subjective thing," he said, adding that it's "OK for people to know he's a human being."

***One of Seinfeld's old running mates, Julia Louis-Dreyfus, will be hosting Saturday Night Live
on Saturday, March 17, with musical guest Snow Patrol. A week later, Super Bowl MVP
Peyton Manning
steps in, following in the cleats of other star Super Bowl QBs such as
Joe Montana
and
Tom Brady
. Manning's musical guest is
Carrie Underwood
.
***
TBS, the "Very Funny" network, has signed
Bob Newhart
and
Jamie Foxx
to produce new comedy series.
Foxx and TNT basketball analyst
Kenny Smith
are behind
Big Shot
, a sitcom about a teenage NBA rookie sensation who still lives at home with his parents. Newhart is developing
Newhart: In Search of Comedy
, a late night "comedy anthology" venture.
***
ABC finally has found a spot for
Notes From the Underbelly
, a comedy series about a young couple expecting their first child. Originally announced for the network's fall lineup,
Underbelly
will arrive seven months overdue on April 11, replacing
In Case of Emergency
on Wednesdays at 8:30 p.m. central.
The network also has announced its warm weather Wednesday lineup.
The Next Best Thing: Who is the Greatest Celebrity Impersonator?
will kick off with a two-hour episode on May 30th (7 to 9 p.m. central). A new drama series,
Traveler
, follows at 9 p.m. On the following Wednesday, a second season of
American Inventor
will be sandwiched between
Next Best Thing
and
Traveler
.
***
NBC's shuffling decks, too. The big-money game show
Identity
, hosted by illusionist
Penn Jillette
, will return on Friday (March 16) at 8 p.m. central after the season finale of
Bob Saget's 1 vs 100. And The Peacock's acclaimed but low-rated 30 Rock won't be gone for long after giving way to Andy Barker, P.I. on Thursday (March 15).

Rock will return on Thursday, April 5 as part of a "super-sized" night of comedy before settling into a new 8 p.m. central slot on the following Thursday. Barker, starring Andy Richter, is scheduled to end its abbreviated run on April 12. It then will be supplanted by Scrubs at 8:30 p.m. central on April 19.

And oh yeah, 30 Rock's season finale will be on April 26. Let's hope it won't be the show's one-and-only season.