TV Bulletin Board (Thurs., July 12) -- Tyler done with Idol
07/12/12 16:52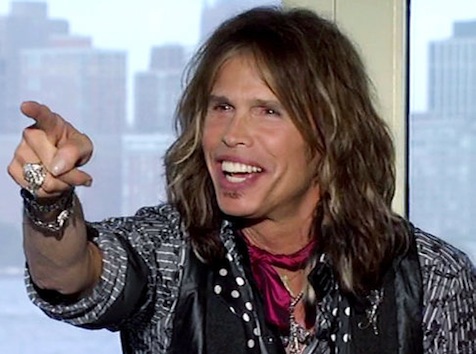 By ED BARK
@unclebarkycom
He began to look pretty bored this season anyway. But Fox's announcement that Steven Tyler is leaving
American Idol
after two years as a judge nonetheless went against the prevailing grain that Jennifer Lopez would be the first to jump.
The Aerosmith lead singer put it colorfully Thursday, saying in a publicity release, "I've decided it's time for me to let go of my mistress,
American ldol
, before she boils my rabbit. I strayed from my first love, Aerosmith, and I'm back -- but instead of begging on my hands and knees, I've got two fists in the air and I'm kicking the door open with my band."
Tyler added that his next few years "are going to be dedicated to kicking some serious ass -- the ultimate in auditory takeover . . .
Idol
was over-the-top fun, and I loved every minute of it. Now it's time to bring rock back."
Fox alternative president Mike Darnell pronounced himself "very sad that Steven has chosen to focus more on his music, but we always knew when we hired a rock 'n' roll legend, he would go back to the music."
Season 12 of
Idol
won't return until January, so there's ample time to fill Tyler's spangled shoes. One or both of his former
Idol
mates, Lopez and charter judge Randy Jackson, also could be leaving as Fox hopes to restore momentum to a competition that slumped significantly in the ratings this past season. However, it remained prime-time's most-watched entertainment series despite the shortfall.
***
ABC News and
People Magazine
(increasingly there's little difference) will be teaming in September to present the two-hour special
Best In TV: The Greatest TV Shows Of Our Time
. Barbara Walters is hosting, with the program tied to ABC's telecast of the annual prime-time Emmy awards. You can vote online for your favorites at
bestintelevision.com
.
***
TNT has renewed its sci-fi drama
Falling Skies
for a third season. And HBO has announced the third season premiere dates for
Boardwalk Empire
(Sept. 16) and
Treme
(Sept. 23).
Boardwalk
gets 12 episodes and
Treme
, 10.
Plus, Showtime says that
Homeland
and
Dexter
will return for new seasons on Sept. 30th. It'll be Season 2 for
Homeland
and the seventh go-around for
Dexter
.