TV Bulletin Board (Wed., June 23) -- CNN hires scandal-ridden former NY guv as co-host of new prime-time program
06/23/10 12:04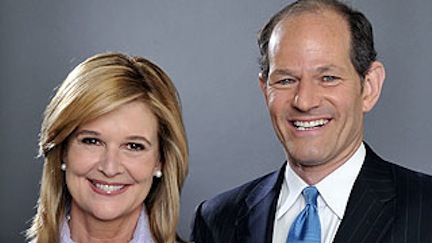 Partnering up: Kathleen Parker and Eliot Spitzer. CNN photo
By ED BARK
Like all cable news channels, CNN devoted heavy coverage to the events surrounding former New York governor
Eliot Spitzer
's resignation in March 2008 after
The New York Times
exposed his numerous
liaisons with high-priced prostitutes
.
It would be funny then -- if it weren't so sad -- that CNN's announcement of Spitzer as co-host of a new
Crossfire
-type program made absolutely no mention of his scandalous past.
Instead the granddaddy of cable's all-news networks lauded Spitzer Wednesday as a "renowned prosecutor and former governor of the state of New York" who is "frequently referred to as the 'Sheriff of Wall Street.' "
Spitzer will be paired with self-described "rational" conservative columnist
Kathleen Parker
in "a spirited, nightly roundtable discussion program" that will replace the failed
Campbell Brown
show at 7 p.m. (central) next fall.
CNN/U.S. president
Jon Klein
took a swipe at rivals Fox News Channel and MSNBC in describing the new program.
"Other cable news channels force-feed viewers one narrow, predictable point of view," Klein said in a publicity release. "In contrast, CNN will be offering a lively roundup of
all
the best ideas -- presented by two of the most intelligent and outspoken figures in the country. Eliot and Kathleen are beholden to no vested interest -- in fact, quite the opposite. They are renowned for taking on the most powerful targets and most important causes."
Spitzer prepped for his CNN role with recurring appearances on MSNBC, which in the end declined to hire him. In his statement Wednesday, Spitzer said he looks forward to working with Parker "in a discussion that will inform, challenge and entertain. I am grateful to CNN for the opportunity to co-host a show that will advance the discussion of the defining issues of our time."
Parker, whose opinion column appears twice weekly in hundreds of newspapers, won the Pulitzer Prize for commentary last month. She began her columns in 1987 while working for the
Orlando Sentinel
.
CNN's hiring of Spitzer puts him well ahead of another famously defrocked governor, former Illinois chief executive
Rod Blagojevich
. Still awaiting trial, he's so far parlayed his post-resignation fame into a contestant role on NBC's
The Celebrity Apprentice
, where he was fired earlier this year by host
Donald Trump
.
***
In other news with a political flavor, Vice President
Joe Biden
's wife, Dr.
Jill Biden
, will guest star as herself on the Sunday, Aug. 15th episode of Lifetime's
Army Wives
series. She'll be visiting the show's fictional Fort Marshall to kick off the post's annual "Fun Run," which supports a summer camp for the children of military families.
Also,
Bristol Palin
, oldest daughter of former Alaska governor and current Fox News Channel commentator
Sarah Palin
, likewise will appear as herself on the July 5th episode of ABC Family's
The Secret Life of the American Teenager
.
Bristol will make an appearance at a music program for teen mothers.