TV Bulletin Board (Mon., Dec. 21) -- Three Rivers runs dry, replaced by reality hour
12/21/09 09:58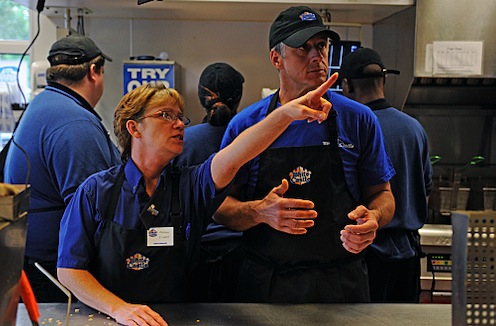 White Castle gets microscoped in early hour of Undercover Boss.
By ED BARK
CBS has announced its post-Super Bowl attraction -- and its replacement for the struggling Sunday night hospital drama,
Three Rivers
.
It's
Undercover Boss
, to be launched after the network's Sunday, Feb. 7th telecast of Super Bowl XLIV. The one-hour reality series -- executives clandestinely leave "the comfort of their corner office" to mingle with commoners -- then will move to Sundays at 8 p.m. (central) on Feb. 14th.
Also returning on that date is the 16th edition of
The Amazing Race
, which will precede
Undercover Boss
at 7 p.m.
Cold Case
moves back to Sundays at 9 p.m.
In limited mid-season tinkering, CBS also announced that the 20th edition of
Survivor
will be a "Heroes Vs. Villains" affair set to premiere on Thursday, Feb. 11th. It'll be a gathering of good and bad from previous
Survivors
, with the principals to be named later.
Survivor
host
Jeff Probst
also will be presiding over a one-hour
Live For the Moment
special on Thursday, Jan. 28th. CBS says that Probst will escort "someone on a series of adventures and experiences that create special life moments with their family and friends." That person then shares his or her "inspiring insights."
***
NBC will throw another unscripted hour on the grill with
Perfect 10
, emceed by
Guy Fieri
of Food Network's
Diners, Drive-Ins and Dives
fame.
The Peacock has ordered eight episodes of the "family friendly" game show, in which contestants will compete in a "series of simple, yet nerve-wracking games that can reward them a $1 million prize." There's no air date yet.
****
Let me make this crystal clear. Comedy Central's
The Daily Show
and
The Colbert Report
at last will be going to high-definition on Monday, Jan. 4th. The network promises "crisp picture quality."