TV Bulletin Board (June 27)
06/27/08 10:34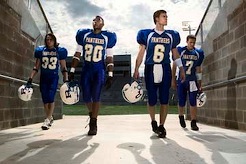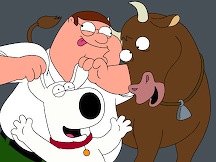 Friday Night Lights and Family Guy are first-time Emmy finalists.
By ED BARK
NBC's made-in-Austin
Friday Night Lights
and Fox's made-overseas
Family Guy
are among Emmy's official contenders in drama and comedy.
That doesn't mean that either will be nominated, though.
Hoping to spark a little more publicity and viewer interest, the Academy of Television Arts & Sciences for the first time has released a list of 10 series finalists in its two major categories. Those lists will be cut in half when the official nominations are announced on July 17th.
Friday Night Lights
recently won a Peabody Award, which might help its chances.
Family Guy
was entered for the first time in the comedy category after previously joining the animated series contenders.
Notable omissions in drama include NBC's
Heroes
, TNT's
The Closer
and any of the
CSI
or
Law & Order
series, respectively the properties of CBS and NBC.
Absent from the comedy contenders are ABC's
Desperate Housewives
and
Samantha Who?
and NBC's
Scrubs
and
My Name Is Earl
. Here are the finalists in the two divisions, with unclebarky.com's five preferred nominees in bold face:
DRAMA
Boston Legal (ABC)
Damages (FX)
Dexter (Showtime)
Friday Night Lights (NBC)
Grey's Anatomy (ABC)
House (Fox)
Lost (ABC)Mad Men (AMC)
The Tudors (Showtime)
The Wire (HBO)
Note: It's hard to leave
Dexter
out, but
The Wire
has never been nominated and at least deserves that accolade in its final season.
COMEDY30 Rock (NBC)Curb Your Enthusiasm (HBO)
Entourage (HBO)
Family Guy (Fox)
Flight of the Conchords (HBO)The Office (NBC)
Pushing Daisies (ABC)
Two and a Half Men (CBS)
Ugly Betty (ABC)
Weeds (Showtime)
Note: Were either in the mix, I'd pick Fox's
The Simpsons
or
King of the Hill
over
Family Guy
. And
Weeds
is omitted because last season hit a low point, not a high.
***
CBS has announced its fall premiere dates, all of which are subject to change, of course. But let's play along and list what for now are the season-openers for the network's most popular series:
Sept. 18 -- The 17th edition of
Survivor
, this one originating from Gabon.
Sept. 22 --
Two and a Half Men
and
CSI: Miami
Sept. 23 --
NCIS
and
Without A Trace
Sept. 24 --
Criminal Minds
and
CSI: NY
Oct. 3 --
Ghost Whisperer
and
Numb3rs
Oct. 9 --
CSI: Crime Scene Investigation