As the Crowe flies, so does Showtime's The Loudest Voice
06/30/19 10:32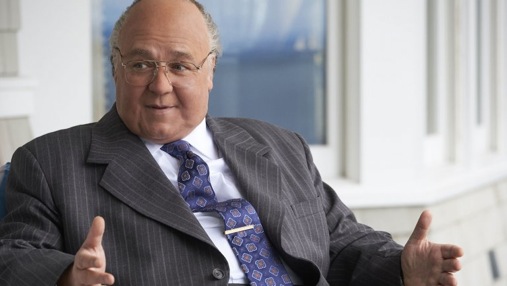 Russell Crowe fills the role in The Loudest Voice. Showtime photo
Premiering:
Sunday, June 30th at 9 p.m. (central) on Showtime
Starring:
Russell Crowe, Sienna Miller, Annabelle Wallis, Naomi Watts, Seth MacFarlane, Simon McBurney, Aleksa Palladino, Guy Boyd, Josh Stamberg, Patch Darragh, Barry Watson, Jaime Jackson, Josh Helman, Susan Pourfar, John Rue, David Cromer
Produced by:
Tom McCarthy, Jason Blum, Alex Metcalf, Liza Chasin, Kari Skogland, Jeremy Gold, Marci Wiseman, Padraic McKinley, Russell Crowe
By ED BARK
@unclebarkycom on Twitter
Making up is hard to do -- or so it would seem in turning Russell Crowe into Roger Ailes.
Showtime's seven-part
The Loudest Voice
, launching on Sunday, June 30th, manages to be seamlessly convincing, though. A combination of the actor's weight gains and some remarkably convincing prosthetics have put Crowe in fine form for a role that few could have imagined him playing. The Oscar-winner from
Gladiator
brings the combative and controversial Fox News Channel founder alive, even if Ailes is first seen lying dead next to an empty prescription pill bottle. He lived to be 77, but died in disgrace less than a year after resigning from FNC in 2016 when allegations of workplace sexual harassment became public via a lawsuit by former FNC anchor Gretchen Carlson.
Carlson, played by Naomi Watts, is only fleetingly seen in the three episodes made available for review. And that's not until hour three, when she approaches Ailes at a party and successfully coaxes him to set up an interview for her with then Republican presidential candidate John McCain. Later in the episode, Carlson ends their Q&A by cheerily telling McCain, "Sounds like a winning message to me." This is hardly the comportment of an objective journalist, but fits right in with Ailes' determination to derail Barack Obama's presidential candidacy. The primary source material is Gabriel Sherman's 2014 book
The Loudest Voice in the Room: How the Brilliant, Bombastic Roger Ailes Built Fox News -- and Divided a Country
.
Crowe's performance begins with a voice-over that accompanies his corpse. "I know what people are going to say about me," he narrates. "I can pretty much pick the words for ya. Right wing. Paranoid. Fat. And I'm not going to argue with them. I am a conservative. I
do
like to eat. And I believe in the power of television. Giving people what they want, even if they don't know they want it."
By this time,
Loudest Voice
has rewound back to 1995, with Crowe as Ailes first seen filling his face in a diner during the Christmas season. It's then on to a face-to-face meeting with NBC CEO Jack Welch (John Finn), who's dropping Ailes as head of both CNBC and spinoff network America's Talking (which soon would become MSNBC).
"Whatever they're saying I did, it didn't happen," Ailes says vaguely before Welch refers to an ongoing HR investigation of whatever he's accused of doing. Even so, he receives an affectionate sendoff from his staff, many of them in tears.
"We love you," a woman tells him.
"Now you tell me?" Ailes ripostes.
Crowe is constantly on camera as Ailes, chortling, yelling, cursing and even trying a little tenderness with CNBC producer Beth Tilson (Sienna Miller), who will become his third and last wife. His emotions are fully conveyed, with no hint of restriction by those aforementioned prosthetics. This is Ailes unleashed, not encased, with Crowe acting up various storms in Sunday's rousing opening hour. He's already savoring the idea of screwing Welch with a competing cable news network that will corner an untapped market by disseminating "an American message wrapped up in a conservative viewpoint." And he has a receptive ear in Rupert Murdoch (solid work by Simon McBurney), whose worldwide News Corporation will be bankrolling FNC.
Episode 1 also sows the seeds of Ailes' predatory bent. He recruits blonde beauty Laurie Luhn (Annabelle Wallis), ostensibly as one of FNC's talent bookers. Primarily though, she's his mistress. And by the time of Episode 3, a repulsed and self-drugged Luhn is being ordered to "dance for me" in her bra and panties while Ailes shoots video.
"Who protects you," Laurie?" he asks.
"You do," she says in a fog before orally gratifying a grunting Ailes. It's a thoroughly creepy sequence that also could be easily denounced as flatly gratuitous. But Luhn, who recently dropped a $750 million lawsuit against Showtime after a private settlement was reached, had earlier gone public with her story to Sherman. His subsequent account, published after the book was released, detailed what Luhn said was 20 years of sexual abuse by Ailes.
Other notable characters are omitted from Showtime's limited series, at least in terms of actors playing them. Megyn Kelly, who became one of Ailes' accusers, initially was envisioned as a peripheral character but later was cut. Bill O'Reilly, referenced as a suspected sexual predator in Episode 2, is shown only as himself in footage from his show,
The O'Reilly Factor
. "What, did he get handsy or something?" Ailes inquires before ordering president of business and legal affairs Diane Brandi (Susan Pourfar) to "just take care of it."
FNC star Sean Hannity is portrayed, but innocuously so far, by actor Patch Darragh. And Seth MacFarlane, as head PR guy Brian Lewis, has little to do but smirk in the first two hours before getting a little more to chew on in Episode 3.
Episode 2 deals at some length with the shocking events of Sept. 11, 2001, with Ailes gradually convincing Murdoch that "we've got a big part to play. This is our time, Rupert. This is our time."
It's also time for Ailes to conspire with Vice President Dick Cheney (John Rue) in terms of orchestrating a plan to invade Iraq. "You're a patriot, Roger," the veep tells him before speaking at a big public gathering and mouthing some of the words Ailes has hand-crafted for him.
Episode 3 advances to 2008, with Obama on a roll despite Ailes' and FNC's best efforts to put McCain in office. Although he admires his military service and comportment as a prisoner of war, McCain's "message is about as limp as Liberace's handshake," Ailes grouses. Furthermore, Obama's veep, Joe Biden, currently being pummeled by several of his rivals for the 2020 Democratic presidential nomination, won't be happy to hear Ailes call him "dumb as an ashtray" during a meeting with Obama's head strategist, David Axelrod (David Cromer).
By the end of this hour, Obama is president but Ailes has secured a prime consolation prize -- "full editorial control" of Fox News. During a visit to his hometown of Warren, Ohio, he's treated as a hero and vowing in a speech that "together we can make American great again."
This seems like more than a bit of a stretch in terms of coining Donald Trump's 2016 clarion call and FNC's full-blown partnership with his eventual presidency.
Unaware of his infidelity, Elizabeth "Beth" Ailes likewise is her husband's true-believing partner, sharing his right-wing views and enjoying the creature comforts his status has provided them. Their little son, Zachary (now 19), is given the daily chore of daily raising and lowering the American flag outside his parents' palatial suburban home. He probably should spare himself from watching any of
Loudest Voice
, particularly the aforementioned Episode 3.
Loudest Voice
otherwise is riveting at the start and somewhat less so as time marches on. Crowe's portrayal of Ailes of course is the major drawing card, and he is nothing if not fully immersed. The characters around him can't help but pale in comparison, but it would help if some of the supporting roles were more vividly acted. McBurney comes closest as Murdoch while Miller is capable as the Mrs. who so far knows nothing of his mistress and other transgressions.
The current mainstays of Fox News Channel seem more likely to ignore the film than openly denounce it on the air. After all, who at his old network would want to reopen the gaping wound that Roger Ailes became? It's easier to keep blasting away at the 20 Democrats currently running for President. Of that Ailes would approve.
GRADE:
B+
Email comments or questions to:
unclebarky@verizon.net