TV Bulletin Board (Thurs., June 20) -- Grammer, Lawrence to do FX sitcom tango
06/20/13 15:08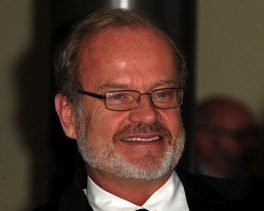 By ED BARK
@unclebarkycom
No longer at the heights of their powers but still making an interesting pairing, Kelsey Grammer and Martin Lawrence have signed to co-star in a new, still unnamed FX comedy series.
The former
Frasier
star, who recently took a dramatic turn in Starz's
Boss
, will team with Lawrence (the
Bad Boys
and
Big Momma's House
movies) in a "90/10" deal identical to the one Charlie Sheen cut with FX. Ten episodes will be produced and aired. And if an undisclosed "designated ratings threshold" is met, 90 more episodes will be made in rapid-fire fashion for both FX and the syndicated market. A 2014 premiere is planned.
The network says the two stars will play Chicago lawyers from "vastly different backgrounds who unexpectedly meet in court on the worst day of their lives. They then form a partnership, "forcing each other to find the balance between the ethical and the unscrupulous in both their professional and personal lives."
The producers are Bob Boyett and Robert Horn, whose old-school comedy credits include
Family Matters, Full House, Perfect Strangers, Designing Women
and
Living Single
. Lawrence and Grammer also have producer credits.
***
Longtime
Reliable Sources
host Howard Kurtz is taking his act from CNN to Fox News Channel. Kurtz, formerly of
The Washington Post
and
The Daily Beast
, is best known lately for his lengthy on-air apology after misrepresenting a
Sports Illustrated
story about Jason Collins, the first current NBA player to come out as being gay.
Kurtz plans to host
Reliable Sources
for two more Sundays before jumping to FNC. He has been with the program since 1998. FNC says Kurtz will take over its weekend
Fox News Watch
program, which will have a new format.
"I'm excited to be bringing my independent brand of media criticism to Fox News," Kurtz said in a statement. "I want to thank CNN for giving me such a prime opportunity over the years and was tempted to continue, but the chance to create a revamped program and establish a strong online presence was too good to pass up."
***
Netflix has renewed
Hemlock Grove
for a second season of 10 episodes. Dan Abrams will be a new co-anchor of ABC's
Nightline
, replacing Terry Moran. And Disney Channel has ordered
Girl Meets World
, a new sitcom from the creator of ABC's
Boy Meets World
.