Ebenezer's redemption is a long, long time coming in FX's ill-conceived A Christmas Carol
12/16/19 13:09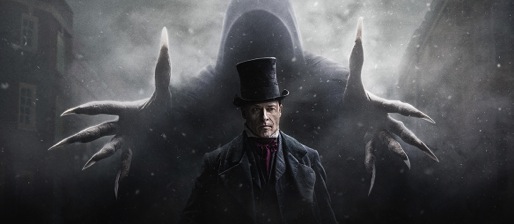 Have a holly jolly Christmas. Yeah, right. Guy Pearce is Ebenezer Scrooge in a grim, elongated adaptation of Dickens' classic. FX photo
Premiering:
Thursday, Dec. 19th at 6:30 p.m. (central) on FX
Starring:
Guy Pearce, Andy Serkis, Joe Alwyn, Stephen Graham, Vinette Robinson, Charlotte Riley, Jason Flemyng, Kayvan Novak, Lenny Rush, Johnny Harris
Produced by:
Steven Knight, Tom Hardy, Ridley Scott
By ED BARK
@unclebarkycom on Twitter
Literature's most awakened central character finds himself amid a darkly "woke" re-imagining of his misdeeds in TV's latest adaptation of
A Christmas Carol
.
So much so that FX is asking reviewers "for your help in protecting the viewing experience by keeping all pre-broadcast coverage spoiler-free with particular regard to young Scrooge's time at school and Mary Cratchit's secret."
Well, bah humbug to that! OK, not really. We'll keep the faith regarding these two cringe-worthy and highly unnecessary departures from Charles Dickens' 1843 story of the world's most famous miser, meanie and holiday-hater. Otherwise, here's the deal: Touted as a "spine-tingling immersion into Ebenezer Scrooge's dark night of the soul," this
Christmas Carol
goes on and on for 177 minutes -- plus commercials. FX is firing it up early at 6:30 p.m. on Thursday, Dec. 19th. (BBC One in the United Kingdom has chopped the production into three successive nights with hour-long chapters, starting on Dec. 22nd.)
Whatever the viewing regimen, it's excessive. In comparison, CBS' exemplary 1984 version, which starred the late George C. Scott, told the story within a two-hour, ads-included time frame. As did TNT in 1999 (with Patrick Stewart starring) and a 2004 NBC musical version fronted by Kelsey Grammer.
FX offers Guy Pearce as Scrooge in an adaptation written by
Peaky Blinders
creator Steven Knight. Pearce mouths the requisite "humbug" on several occasions while also joining some of the supporting characters in dropping f-bombs.
A Christmas Carol
has never really been for kids, unless one counts The Flintstones,' Bugs Bunny, Mickey Mouse or Mr. Magoo versions. But FX has gone "adult" with a vengeance while also challenging grownups to keep their eyes open. This is one hell of a hellish slog toward a redemption that isn't really earned, given what Ebenezer once did to Bob Cratchit's desperate wife, a woman of color played by Vinette Robinson.
It all begins with a badly scarred kid peeing on the deceased Jacob Marley's gravestone while calling him a "skinflint old bastard." Marley (Stephen Graham) had been Scrooge's partner in business crimes until dying at age 47. But there's no rest for the wicked, meaning the tormented Marley has been unable to stay lifeless.
Cratchit (Joe Alwyn) continues to toil away as Scrooge's clerk, but is less a milquetoast than in earlier versions. Even so, it's his lot to work on Christmas Eve while the boss wonders aloud, "How many 'Merry Christmases' are meant? And how many are lies?"
Scrooge's ever-friendly nephew Fred as usual drops in to invite his sour ball uncle to Christmas dinner. He's again rebuffed, but that's as far as it goes. Unlike previous adaptations, there's no climactic reconciliation after Scrooge sees the light.
There is however, Ali Baba (Kayvan Novak), a favorite storybook character from Ebenezer's childhood. He assists the Ghosts of Past, Present and Future (respectively played by Andy Serkis, Charlotte Riley and Jason Flemyng) in bringing Scrooge to self-realization. During this process, two terrible and repressed tragedies, one of them visited upon an 11-year-old Ebenezer, turn this version of
A Christmas Carol
into the most unsavory of them all -- by far.
The Cratchits' sickly, lovable Tiny Tim (Lenny Rush) remains in the mix, but the poor kid is stripped of his tagline, "God bless us, every one." Mercifully, though, he's also not called on to emit any f-bombs. The aforementioned Riley doubles as Ebenezer's heroic sister, Lottie, whom Dickens' created as "Fan."
Pearce never looks old or weathered enough to be Scrooge through and through, although he plays the part well enough. But with almost countless versions of
A Christmas Carol
out there, why subject yourself to one that takes forever and a day while also going places that it decidedly shouldn't have? Frankly, this Ebenezer Scrooge merits his Christmas goose being cooked behind bars for two very serious crimes against humanity. Instead he ends up being at large while at last finding the gumption to say "Merry Christmas." Which turns out to be the biggest humbug of all.
GRADE:
C
Email comments or questions to:
unclebarky@verizon.net