TV Bulletin Board (July 1) -- BET hits double-digit millions with awards show/Jackson tribute
07/01/09 13:57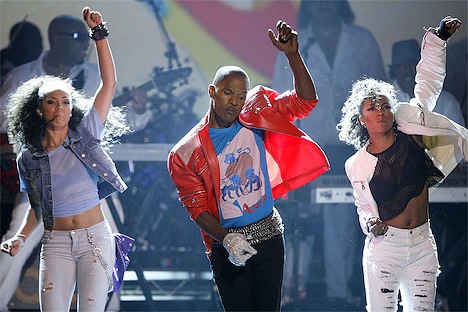 Host Jamie Foxx opened the BET Awards in Jackson guise. BET photo
By ED BARK
Sunday night's annual BET awards show, largely devoted to a Michael Jackson tribute, topped the week's cable charts and almost ranked as the most-watched program on any network.
Hosted by Terrell native
Jamie Foxx
and featuring an unbilled appearance by
Janet Jackson
, the show drew 10.7 million viewers nationally, edging The Learning Channel's heavily publicized episode of
Jon & Kate Plus 8
(10.6 million) for the week of June 22-28.
Only two TV programs did better. NBC's Tuesday, June 23rd edition of
America's Got Talent
had 11.5 million viewers and a rerun of CBS'
NCIS
on that same night drew 11.1 million viewers.
***
On another ratings front, the Peacock's MSNBC is crowing about beating CNN for the first time ever in the national quarterly Nielsen ratings for weekday prime-time programming.
MSNBC averaged 946,000 viewers for the April-June period, edging CNN's 939,000. The left-leaning cable news network also out-pointed middle-of-the-road CNN among advertiser-preferred 25-to-54-year-olds, by a score of 289,000 to 261,0000. MSNBC's
Countdown with Keith Olbermann
was the network's top draw, averaging 1.159 million total viewers, with 350,000 of them in the 25-to-54 age range.
Right-leaning Fox News Channel continues to outdraw both networks in prime-time.
***
it's always something with former Dallas Cowboys cheerleader
Melissa Rycroft
. The latter day
Good Morning America
correspondent has announced her engagement to Dallas boyfriend
Ty Strickland
.
"Sometimes the stars align and the clouds part and everything works out the way it should," she told
GMA
co-anchors
Diane Sawyer
and
Robin Roberts
on Tuesday's show.
Rycroft, 26, initially became famous for being jilted on ABC's
The Bachelor
by
Jason Mesnick
, who had given her his final rose, only to renege. She then immediately segued to the network's
Dancing with the Stars
, making the finals and placing third.