TV Bulletin Board (March 14)
03/14/07 15:50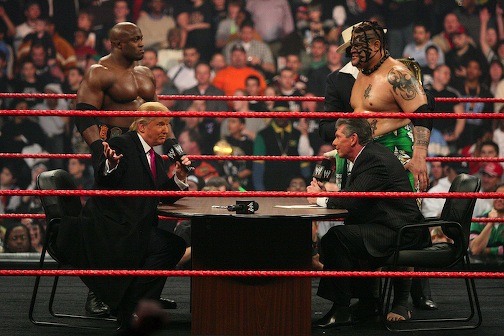 Hairy beasts: Donald Trump and Vince McMahon try to avoid a close shave in pay-per-view Wrestlemania 23, appropriately scheduled on April Fool's Day. Photo copyright 2007, World Wrestling Entertainment, Inc.
By ED BARK***
The world is but a Big Top, under which we all live.
Further proof is
Wrestlemania 23
, during which a pay-per-view audience supposedly will get to see either
Donald Trump
or
Vince McMahon
made bald.
Their live "Hair vs. Hair" match is scheduled for April Fool's Day (starting at 6 p.m. central), so buyers beware. Still, it'd be shear pleasure seeing Trump shorn of his infamous mane if his designated wrestler,
Bobby Lashley
, loses to McMahon's main man,
"The Samoan Bulldozer" Umaga
(whose real name is probably Chris Smith or something).
World Wrestling Entertainment, Inc. solemnly promises that one of the bellowing billionaires will be Mr. Cleaned in front of 75,000 fans at Ford Field in Detroit. Go
here
for information on how to order this "most anticipated pay-per-view event of the year." That includes you,
Rosie O'Donnell
.
***
One of the oldest games in town is getting its own show during the May "sweeps." A-B11-C will premiere
National Bingo Night
on May 18, with viewers urged to play along on cards that eventually can be downloaded at
ABC.com
. In-home players "will race against the studio audience," says ABC, with a "chance to win cash and send the contestant home empty-handed."
Your over-the-top host is
Ed Sanders
from ABC's
Extreme Makeover: Home Edition
***
The Daytime Emmy Award nominations are in, and the
Dr. Phil
show somehow is in the running for "Outstanding Achievement in Hairstyling."
On leveler playing fields, retiring
Bob Barker
will try to win a final Emmy as best game show host in competition with
Pat Sajak, Alex Trebek, Meredith Vieira
and
Ben Bailey
of The Discovery Channel's
Cash Cab
.
The "Outstanding Talk Show Host" faceoff is among
Dr. Phil, Ellen DeGeneres, Rachael Ray, Lisa Rinna, Tyra Banks
and the crew from
The View minus O'Donnell, who apparently hasn't been with the show long enough to be eligible.