Spectrum's Mad About You reboot is nothing to get upset about
11/18/19 13:47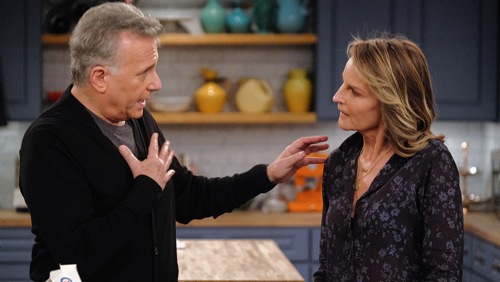 Married with child: Paul Reiser/Helen Hunt return 20 years after the original left NBC for
Mad About You
reprise. Spectrum Orlginals photo
Premiering:
Wednesday, Nov. 20th, with first six episodes available via Spectrum Originals On Demand
Starring:
Paul Reiser, Helen Hunt, Abby Quinn, Richard Kind, John Pankow, Kecia Lewis, Anne Ramsay
Produced by:
Peter Tolan, Helen Hunt, Paul Reiser, Brian Volk-Weiss, Michael Pelmont, Matthew Ochacher
By ED BARK
@unclebarkycom on Twitter
Reboot mania has slowed its frenetic pace this season, although not to a crawl just yet.
On the sitcom front, CBS had a flop last season with a
Murphy Brown
reprise while NBC is wrapping up its second coming of
Will & Grace
and ABC is still gainfully airing
The Conners
after the
Roseanne
re-do's namesake tweeted her way out of the picture.
Mad About You
, from the same era as the aforementioned, otherwise is different in two key respects. Most important: the overall lack of availability. You'll have to be a Spectrum cable subscriber to see the series, whose first six episodes arrive commercial-free via the service's On Demand arm.
Furthermore, the second comings of
Roseanne, Will & Grace
and
Murphy Brown
were rife with references to the Trump administration in their first episodes. Characters took sides and then squared off. But
Mad About You
re-arrives in a complete political vacuum. Paul and Jamie Buchman (original co-stars Paul Reiser, Helen Hunt) remain in Trump's original lair of Manhattan. But there's nary a mention of his presidency in the first five episodes made available for review, not even from their now college age daughter, Mabel (Abby Quinn). She's anything but an activist in a first episode where Mabel's sole goal is relocating to a New York University dorm room and putting the parents behind her.
The principal issue in Episode One is Mabel's failure to make her bed before leaving home. Upon discovering this, Jamie is greatly vexed while Paul already has gotten past his initial weepiness over their only child leaving home. Back-and-forth they go, with Hunt and Reiser still quite adept at playing off one another. It's the reboot's biggest plus side, even if their sometimes playful dickering is much ado about essentially nothing.
Returning supporting characters include Jamie's older sister, Lisa (Anne Ramsay), Paul's cousin, Ira (John Pankow), and Paul's longtime friend, Dr. Mark Devanow (Richard Kind). A lack of diversity in the original series is addressed by Mark remarrying an African-American therapist named Tonya (Kecia Lewis). She turns out to be a big plus, particularly in an Episode 5 where Jamie re-enters the work force as Tonya's therapist-in-training. "Now let's go fix some people" serves as Tonya's rallying cry. For his part, Paul is now running a small post-production film studio.
The original
Mad About You
ran for 164 episodes and seven seasons on NBC, ending in 1999. Hunt won four consecutive lead actress Emmys and was nominated in that category for the show's other three seasons. Reiser ended up settling for six nominations. The show itself never won an Emmy for best comedy series, but these were glory years for broadcast network sitcoms. The competition not only included
Roseanne, Murphy Brown
and
Will & Grace
, but also
Cheers, Seinfeld, Designing Women, Frasier, Friends
and
Wings
.
Spectrum's
Mad About You
reboot, with a second helping of six more episodes coming on December 18th, is agreeable enough to coax some smiles and even a little audible laughter on occasion. As when Paul traverses the distance from kitchen to apartment door while riffing, "Is the place getting bigger? Twenty years ago, I would have been there already."
Best of all, the show isn't an embarrassment. It smoothly goes through its paces, with Hunt and Reiser engaged and looking happy to be together again. The "plots," such as they are, tend to be mostly thin soup. Jamie resents never being offered a toothpick by Paul after a restaurant meal. Paul works himself into a frazzle over the idea of getting naked in view of Mark for a post-workout steam bath.
And in the show's so far lone jab at current societal issues, it's cringe-worthy to see Paul being branded as "just another misogynist who doesn't get it" by an aggressively "woke" NYU film student.
So no, you're not likely to renounce your current cable or satellite service for the sole purpose of getting to see the new
Mad About You
. But for those who are already in tow, this is a nice little bonus that goes down easily and amiably.
GRADE:
B-minus
Email comments or questions to:
unclebarky@verizon.net