TV Bulletin Board (Thurs., Oct. 25) -- new TV vehicle for old Cheers mates
10/25/12 14:49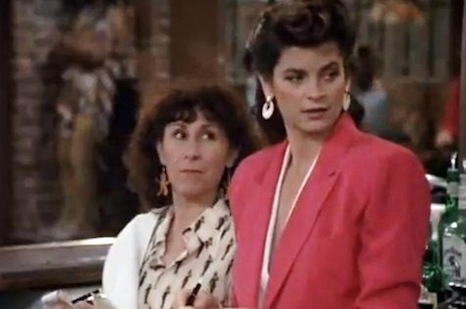 Rhea Perlman and Kirstie Alley during their Cheers days.
By ED BARK
@unclebarkycom
TV Land's old-time sitcom religion gained two more notable converts Thursday when the network announced that former
Cheers
stars Kirstie Alley and Rhea Perlman will re-team in
Giant Baby
.
So far there's only a pilot commitment, but these things generally turn into full-fledged series unless the initial execution is so bad it becomes a death penalty.
Alley stars as Madison "Maddie" Banks, a Broadway star whose life is "turned upside down" when a long-lost "nerdy and schlubby" son named Arlo (yet to be cast) tries to reconnect with her after his adoptive mother dies. Maddie initially resists, of course.
Perlman, who recently made news when she and longtime husband Danny DeVito announced a split-up, will play Thelma, who's Maddie's "long-suffering assistant and best friend."
TV Land first hit the old-school comedy jackpot with
Hot In Cleveland
and since has become home to a number of new half-hour weekly series populated with stars of previous hit sitcoms.
***
Fox has announced three key winter season premiere dates, including the 12th season return of
American Idol
on Wednesday, Jan. 16th with new judges Mariah Carey, Keith Urban and Niki Minaj, plus holdover Randy Jackson.
The new "psychological thriller"
The Following
will debut on Monday, Jan. 21st in the time slot currently occupied by Fox's low-rated
The Mob Doctor
. Kevin Bacon stars as ex-FBI agent Ryan Hardy, who's called out of retirement to track a serial killer played by James Purefoy from HBO's
Rome
. Purefoy's character, Joe Carroll, lately is mentoring his own "ever-growing web of killers."
And on Friday, Feb. 1st, Kiefer Sutherland's
Touch
returns for its second season. It will replace
Fringe
, which currently is in its announced final 13-episode season.
On a considerably lower plane, Fox also has ordered a two-hour reality-competition special called
Stars In Danger: High Diving
. It's drawn from a long-running, same-named German hit. Premise: Eight celebrities "plunge into a whole new discipline -- diving!" It's scheduled to air sometime in the coming winter.
***
CBS has given full-season pickups to two of its freshman drama series,
Vegas
and
Elementary
. Also, Showtime's
Homeland
and Fox's
The X Factor
both have been renewed for third seasons.
***
The Encore network's
Big Miniseries Showcase
will be reprising a true giant of the genre in November when
Lonesome Dove
gets a four-night run.
It will air from Monday, Nov. 19th through Thursday, Nov. 22nd at 7 p.m. (central) each night. On the following week, from Nov. 26th through the 29th at the same times, Encore is re-presenting
Return to Lonesome Dove
. It didn't stand up to the original, but had its moments.
Unjustly gypped on Emmy night, the original
Lonesome Dove
had a super-stellar cast that included Robert Duvall, Tommy Lee Jones, Anjelica Huston, Diane Lane, Danny Glover, Chris Cooper, Robert Urich, Ricky Schroder and Steve Buscemi. It originally ran on CBS in February 1989.
The sequel aired in 1993, with Jon Voight resuming Jones' Woodrow Call role. Also featured were Lou Gossett Jr., Barbara Hershey, William Petersen. Reese Witherspoon, Oliver Reed, Dennis Haysbert and Schroder, who by that time had shortened his first name to the more serious-minded "Rick."
unclebarky@verizon.net