TV Bulletin Board (Feb. 26th) -- Seinfeld segueing to new NBC "comedy/reality" series
02/26/09 12:14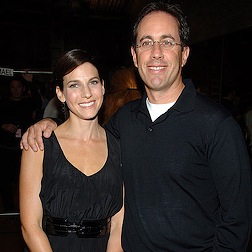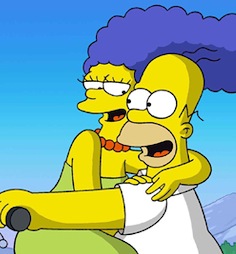 Jerry Seinfeld and wife, Jessica; Homer and Marge Simpson
By ED BARKJerry Seinfeld
is returning to NBC with a show about nothing but marital strife.
Titled
The Marriage Ref
, it's "not a therapy show, it's a comedy show," Seinfeld says in a network press release. "After nine years of marriage I have discovered that the comedic potential of this subject is quite rich."
Seinfeld, whose
Seinfeld
left NBC's prime-time lineup in May 1998, is the show's creator and co-executive producer along with
Oprah Winfrey Show
veteran
Ellen Rakieten
. NBC says
Marriage Ref
will "feature opinionated celebrities, comedians and sports stars who will candidly comment, judge and offer different strategies for real-life couples in the midst of a classic marital dispute."
There's no air date yet.
***
Fox's
Homer and Marge Simpson
so far have done all right without any help from
Marriage Ref
. So much so that the network has ordered two more seasons of
The Simpsons
. That will make it a minimum total of 22 seasons and 493 episodes, with no end in sight.
***
Another long-distance runner, CBS'
Survivor
, has been picked up for two more editions that will air in the 2009-'10 TV season. That'll make it an even 20 far-flung, cutthroat adventures for a show that's currently in the early stages of
Survivor: Tocantin
.
***George Strait
will be warming up with a prime-time "ACM Artist of the Decade" special on CBS before joining fellow country music deity
Reba McEntire
to open the Dallas Cowboys'
new Arlington playpen
on June 6th.
CBS says it'll be taped on April 6th in the MGM Grand Garden Arena in Vegas, with scheduled performers to include
Faith Hill, Toby Keith, Tim McGraw, Taylor Swift, Keith Urban
and
Sugarland
. The shebang doesn't have an air date yet.