It's vampires for grins in FX's winning What We Do in the Shadows
03/25/19 14:05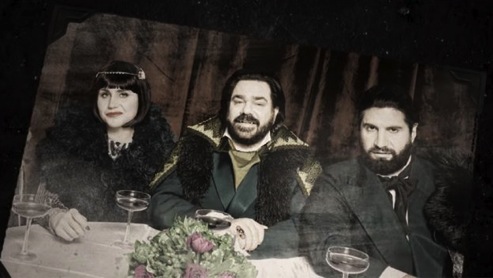 Neck to neck: The three lead vampires of
What We Do in the Shadows
. FX photo
Premiering:
Wednesday, March 27th at 9 p.m. (central) on FX
Starring:
Kayvan Novah, Natasia Demetriou, Matt Berry, Mark Proksch, Harvey Guillen, Beanie Feldstein
Produced by:
Jermaine Clement, Taika Waititi, Scott Rudin, Paul Simms, Garrett Basch, Eli Bush
By ED BARK
@unclebarkycom on Twitter
Hungry for another vampire series or feature film? You'll never have to wait for long.
FX's 10-episode
What We Do in the Shadows
nonetheless is a TV original, even if it's loosely adapted from the same-named 2014 cult movie. It's the first full-out comedy series about these fang-bearing, blood-imbibing, daylight saving time-hating marauders of the dark. (
The Munsters
came pretty close, but doesn't make the cut because its nominal head-of-household was a Frankenstein's monster sendup with a vampire wife and a half-vampire, half-werewolf son.)
The four principals of
Shadows
are all full-fledged vampires who have settled on Staten Island for the last century or so. One of them, Nandor the Relentless (Kayvan Novah), is a former Ottoman Empire warrior whose "human familiar" (Harvey Guillen as Guillermo) yearns to become part of the fraternity. For now, though, the poor sap is in his 10th year of carcass disposal, virgin roundups, wakeup calls and errand-running. If only he could somehow be like his role model and idol -- Antonio Banderas as Armand in
Interview with the Vampire
.
Vampires Laszlo and Nadja (Matt Berry, Natasia Demetriou) are lovers during those times when she can't find someone better. He's something of a dandy and she sees herself as a temptress prone to hissing fits.
Nadja also would be the funniest of them all were it not for Colin Robinson (Mark Proksch), a balding, cardigan sweater-wearing "energy vampire" who's unaffected by the sun and recharges himself by sucking the life force out of others with his patented boring discourses.
This works quite well for Colin at his cubicle-infested workplace. But in Episode 3 -- one of four half-hours made available for review -- he meets his match in newcomer Evie Russell (guest star Vanessa Bayer from
Saturday Night Live
). In the mode of
SNL
's Debbie Downer she's an "emotional vampire" who re-energizes herself with pity from those subjected to her non-stop tales of woe.
While Nandor, Nadja and Laszlo have a physical face-off with a pack of werewolves (atop an abandoned Circuit City rooftop), Colin and Evie levitate and go at it verbally. The other sounds you hear may be your own convulsive laughter.
Shadows
is a show within a show, with a docu-crew recording the principals' every move. Guillermo serves as the principal voice-over narrator, but everyone intermittently talks to the camera. In Episode 2, this allows Nadja to recall a dirt-poor upbringing in which her family burned donkey dung for heat. And then it got worse. This also is the episode in which the vampires try to take over a Staten Island Borough Council meeting -- but only after members have to sit through Colin's torturously dull treatise on zoning ordinances.
Their end-game, of which they're reminded by the briefly aroused and cadaverous Baron Afanas, is for vampires to achieve complete domination of the "New World." But this clearly is going to take some time. In Episode 4, an alliance is sought with the snooty and much larger Manhattan vampire crew (headed by guest star Nick Kroll as night club-owning Simon). Nandor's cherished, foul-smelling, "cursed" hat ends up playing a key role in the outcome.
This episode turns out to be the weakest of the first four, but not to the point of torpedoing the series' momentum.
Shadows
also includes brief although graphic bloodletting/vomiting while regularly dropping f-bombs that lately have become the norm on FX.
No one is really going for the jugular, though. Your funny bone is the main target, with the humor ranging from broad to subtle. The premiere episode includes Laszlo playing a few keys on the organ before telling the camera, "I call that 'Nadja's Theme.' "
You'll get that one if the surname Comaneci rings a bell. If not, Nandor's pronunciation of crepe paper as "creepy" paper should be accessible to all. So yes, these vampires still suck -- but in a unique series that otherwise just tickles.
GRADE:
B+
Email comments or questions to:
unclebarky@verizon.net