TV Bulletin Board (Sept. 16)
09/16/08 16:37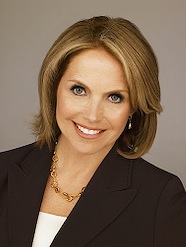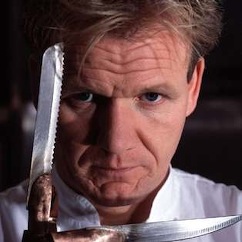 By ED BARK
Runnerup in the
Sarah Palin
interview sweepstakes is
CBS Evening News
anchor
Katie Couric
, who will hit the campaign trail with the Republican veep nominee on Sept. 28-29.
CBS says that Couric will both quiz Palin and receive exclusive "behind-the-scenes access" as the Alaska governor travels both alone and with running mate
John McCain
. Part 1 of their collaboration will air on the Monday, Sept. 29th
Evening News
. Palin's debate with Democratic counterpart
Joe Biden
will be just around the corner (Oct. 2nd) by then.
***
Chef
Gordon Ramsay
will be wielding his cutlery and even sharper tongue for a few more years on Fox.
The network has signed him to two more editions of
Hell's Kitchen
and at least another ladle of
Kitchen Nightmares
. Ramsay also will preside over a self-standing special and a third series, both yet to be specified.
***
TNT has acted fast in renewing its new
Raising the Bar
legal drama after just three episodes have aired.
Bar
, from groundbreaking producer
Steven Bochco
(
Hill Street Blues, L.A. Law
), will get a second season while TNT's
Saving Grace
, starring
Holly Hunter
, has been greenlighted for a third.
Bar
premiered to mostly tepid reviews but its premiere episode set record ratings for an advertiser-supported cable network with 7.7 million viewers. TNT programming executive
Michael Wright
says he's also been happy with "the creative growth of the show across the episodes and to see these characters and stories pay off."
Bochco's last basic cable series, FX's Iraq war drama
Over There
, got discharged after just one season.
***
HBO's
John Adams
miniseries led the way with eight Emmys at last weekend's "creative arts" ceremony.
Also faring well were AMC's
Mad Men
(4) and NBC's
30 Rock
(3). The trio led all Emmy nominees in their respective categories and will be back in the hunt for the "major" hardware during ABC's Sunday, Sept. 21st ceremony.