TV Bulletin Board (Jan. 14)
01/14/08 15:29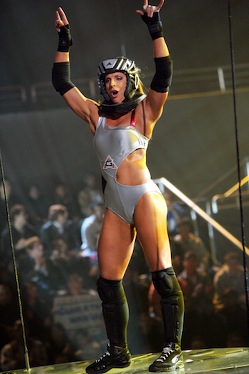 Please separate NBC's American Gladiator from CBS' Celine Dion.
By ED BARK
CBS has ordered a slew of strike-induced specials and series as the TV season increasingly refuses to follow the script.
Garth Brooks: Live In L.A!
, premiering on Friday, Jan. 25th, stars the unretired country star in the first of five charity concerts from the Staples Center. CBS is getting a truncated one-hour special that supposedly gives viewers "unique access" to portions of the opening show.
Then on Feb. 15th, it's
Celine Dion: That's Just The Woman In Me
, a one-hour collection of greatest hits and cuts from her new CD "The Prayer." Taped from a Jan. 12th performance in L.A., the special also features
Josh Groban
.
The Eye network also has these dollops in mind for future broadcast:
Secret Talents of the Stars
-- Perhaps we'll find out that
Joey Lawrence
can shoot an apple off of
Kathy Griffin
's head.
Game Show In My Head
-- From
Ashton Kutcher
and
Jason Goldberg
(
Punk'd, Beauty and the Geek
), it's a weekly half-hour in which contestants are required to make asses of themselves in return for "big money."
America's Top Dog
-- "Big money" again is in the balance in a "dog-eat-dog" competition that tests a canine's relationship with "the person who has raised and trained it."
With shows like this, why not greenlight
Oops, I Pooped My Pants
? The contestant creating the biggest stink gets an all-expense paid trip to the 2009 People's Choice Awards.
***
NBC has renewed its new version of
American Gladiators
for a second season after surprisingly muscular ratings for early episodes. Your hosts will still be
Hulk Hogan
and
Laila Ali