TV Bulletin Board (May 3)
05/03/07 17:29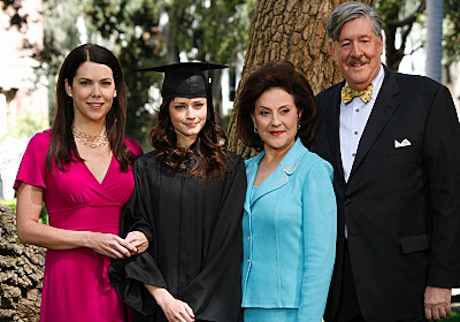 By ED BARK***
Gilmore Girls
soon will be The Goodbye Girls.
CW is dropping the seven-year-old series, which will have its finale on May 15. The fast-bantering dramedy, starring
Lauren Graham
and
Alexis Bledel
as mother-daughter Lorelei and Rory Gilmore, premiered on the now defunct WB network in fall 2000.
A joint statement from CW and Warner Bros. Television termed a "sad moment for everyone . . . This series helped define a network and created a fantastic, storybook world featuring some of television's most memorable, lovable characters."
Its creator, wisecracking
Amy Sherman-Palladino
, left the show under some duress at the end of last season.
Gilmore Girls'
supporting cast included
Milo Ventimiglia
and
Jared Padalecki
, who respectively have matriculated to NBC's
Heroes
and CW's
Supernatural
, another carryover from the WB network.
***
CBS News again will fete its oldest living legend in
That's the Way It Is -- Celebrating Cronkite at 90. That would be Walter Cronkite, who's been away from the CBS Evening News anchor desk since March of 1981. The one-hour special is set for Friday, May 18.

A CBS release says that Dan Rather will be included among those saluting "The Cronk," who didn't really salute him when he left the Evening News under pressure in March 2005.

Other big news names involved in the tribute include Mike Wallace, Ted Koppel, Diane Sawyer, Barbara Walters, Brian Williams, Charles Gibson and Katie Couric, latest occupant of the CBS "Chair." Some of Cronkite's show biz friends also will extoll him. Namely George Clooney, Spike Lee, Robin Williams and Grateful Dead drummer Mickey Hart.

***Justin Timberlake's first solo concert for HBO will air on Sept. 3. And beginning May 24, NBC will be burning off this season's remaining new episodes of Studio 60 on the Sunset Strip. That's the night after the end of the May "sweeps" ratings period.

By that time, NBC and its broadcast rivals will have announced their new fall schedules. Studio 60, getting the Thursday, 9 p.m. (central) slot, is an extreme longshot to make the cut.