Finally back in view: HBO's pathfinding and exhilarating From the Earth to the Moon
07/26/19 10:25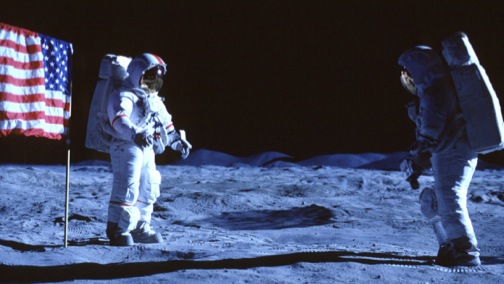 Making their marks on the once unreachable moon. HBO photo
By ED BARK
@unclebarkycom on Twitter
Lost in space for far too many years, HBO's brand-defining, landmark
From the Earth to the Moon
at last is back amongst us in newly remastered HD form on all of the premium cable network's "platforms."
Words such as "brand-defining" and "landmark" usually are reserved for HBO series such as
The Sopranos, Sex and the City
and
The Wire
, or in later years,
Deadwood, Curb Your Enthusiasm
and
Game of Thrones
.
But the 12-part
Earth to the Moon
pre-dated all of them as HBO's first major big-budget miniseries and a maiden voyage for Tom Hanks as an executive producer who went on to helm or co-helm the likes of
Band of Brothers, The Pacific, John Adams, Game Change
and
Olive Kitteridge
. All six of these HBO productions won Emmys as their respective year's best miniseries or movie.
I reviewed
Earth to the Moon
when it originally aired in 1998, and also was at the HBO interview session that touted it. Hanks already had won two Best Actor Oscars for
Philadelphia
and
Forrest Gump
, and was en route to a nomination for 1999's
Saving Private Ryan
. Binge-watching
Earth to the Moon
in recent days is first and foremost a thrilling voyage of rediscovery. It still stands as HBO's most affirming and aspirational miniseries, a proof positive look at a U.S. space program that in the end yielded six moon landings from 1969 to 1972. The unabashed joy of those touchdowns, with astronauts grinning from ear to ear, is infectious on each and every occasion.
Hanks is the on-camera host for all but the 12th episode, in which he instead acts the part of an aide to French filmmaker Georges Melies, who in 1902 directed the visionary
Le Voyage dans la Lune
. He's otherwise all-business, striding toward the camera in crisp business suits, shirts and ties to briefly tease what we're about to see. Hanks is a marvel to behold as his younger self, which at the time was his early 40s. His duties also included directing Episode 1 and writing Episode 12 while also assisting as a co-writer for three other hours.
One of Hanks' second-in-commands, Graham Yost, went on to create and executive produce FX's
Justified
, one of that network's signature series. For
Earth to the Moon
, he's the sole writer of Episode 2 and the sole director of Episode 5 while joining Hanks as a co-writer of Episode 6.
Save for Episode 11, the entire depiction is very white male -- as it was in those times. Sally Field is the solo director for the penultimate hour, titled "The Original Wives Club." She also briefly appears as Trudy Cooper, the spouse of astronaut Gordo Cooper. Most of these marriages ended in divorce.
Each episode's cast is listed in alphabetical order. Not that there were any major feature film stars involved, save for the limited duties of Hanks and Field. A big chunk of the production's reported $65 million budget went to special effects. The casts were mostly made up of actors who had made their names in television, but not in big ways. In Bryan Cranston's case, he was still a no-name. Cast as astronaut Buzz Aldrin (principally in Episode 6), Cranston otherwise had yet to co-star in Fox's
Malcolm in the Middle
and was still a decade away from AMC's
Breaking Bad
.
There are a number of pleasant surprises, none more so than comedian Dave Foley from
Kids in the Hall
as drawling, wide-eyed astronaut Alan Bean in Episode 7. Foley, who also narrates this hour, turns out to be perfectly suitable in both cases.
Also look for:
***
Max Wright, the goofy dad from NBC's
ALF
, as the boundlessly enthusiastic and eccentric Guenter Wendt, launch pad leader for the Mercury, Gemini and Apollo programs. He's joined in this Episode 3 by Mark Harmon as astronaut Wally Schirra. Harmon's performance is letter-perfect as the wisecracking, cocksure member of the Original Seven.
***
Ted Levine, who comes to the fore as trailblazing astronaut Alan Shepard in an Episode 9 that affords him a second chance to be more than the one-and-done guy who seemed fated to spend just 15 minutes in space as a veritable test monkey.
***
Peter Scolari, who came to fame along with Hanks in the ABC sitcom
Bosom Buddies
before mostly fading from view. In Episode 1, he portrays astronaut Pete Conrad before being supplanted in Hour 7 by Paul McCrane in that role.
***
Hanks' wife, Rita Wilson, as astronaut Frank Borman's wife, Susan. She's especially good in the aforementioned "Original Wives Club" episode.
***
A pre-
Mad Men
John Slattery as Sen. Walter Mondale, a NASA naysayer in Episode 2 after a training mission fire took the lives of three astronauts. Episode 1 offers a few glimpses of ill-fated future U.S. senator Al Franken in the role of President Kennedy's science advisor, Jerome Wiesner.
***
Last and by no means least, character actor Lane Smith is a connective thread throughout as fictional TV news anchor Emmett Seaborn. The newsman most associated with the moon landings, Walter Cronkite, is recurrently shown in archival footage. But Seaborn steals the show, particularly in an Episode 8 that finds him being pushed aside by young gun reporter Brett Hutchins (Jay Mohr), who ushers in an "infotainment" approach to storytelling.
Smith died in 2005 and also played excitable
Daily Planet
editor Perry White in ABC's
Lois & Clark: The New Adventures of Superman
. He richly deserved an Emmy for his portrayal of Seaborn. But in the end,
Earth to the Moon
unjustly went without any acting nominations at all among the 17 it received and three it won.
Earth to the Moon
, whose 12 episodes are each distinctive mini-movies, also had no hesitation in embracing the science behind the lunar missions championed by President Kennedy. His ringing declaration -- "Not because they are easy but because they are hard" -- is heard throughout in the opening credits.
All these years later -- and a full 21 years since HBO first aired this pathfinder -- we are a severely divided country torn further into fragments by "social media" platforms that didn't exist back then and two partisan cable news networks (MSNBC and FNC) that were still in their infancy when
Earth to the Moon
first launched. NASA's space exploits also became controversial in time, leading to the abandonment of manned lunar missions after the last one on Dec. 11, 1972.
But on July 20, 1969, the world watched as one while Neil Armstrong and Buzz Aldrin set foot on the moon while Michael Collins orbited around it in the command module upon which all three then returned safely to Earth.
From the Earth to the Moon
is an exhilarating time travel back to the days when it all started. If you haven't yet seen it, by all means take the plunge. And if you have, there's no time like the present to re-immerse yourself in the sheer can-do and invigorating audacity of it all.
Email comments or questions to:
unclebarky@verizon.net