TV Bulletin Board (Mon., July 30) -- TV critics fete Louie, Homeland, Game of Thrones
07/30/12 10:04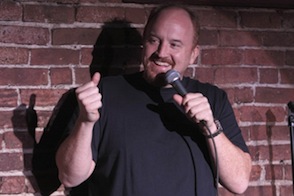 Homeland's Claire Danes and Louis C.K. of FX's Louie.
By ED BARK
@unclebarkycom
Showtime's
Homeland
and FX's
Louie
topped honorees with two trophies apiece at Saturday night's 28th annual Television Critics Association awards in Beverly Hills.
But neither program was named program of the year. HBO's
Game of Thrones
instead prevailed while AMC's
Breaking Bad
beat out
Homeland
for "Outstanding Achievement in Drama."
Breaking Bad
star Bryan Cranston hosted the ceremony.
Here is the complete list of winners:
Program of the Year
--
Game of Thrones
Outstanding Achievement in Drama
--
Breaking Bad
Outstanding Achievement in Comedy
--
Louie
Individual Achievement in Drama
-- Claire Danes,
Homeland
Individual Achievement in Comedy
-- Louis C.K.,
Louie
Outstanding New Program
--
Homeland
Career Achievement
-- David Letterman
Outstanding Achievement in Movies, Miniseries and Specials
--
Downton Abbey
(PBS)
Outstanding Achievement in News and Information
--
60 Minutes
(CBS)
Outstanding Achievement in Reality Programming
--
So You Think You Can Dance
(Fox)
Outstanding Achievement in Youth Programming
--
Switched At Birth
(ABC Family)
Heritage Award
--
Cheers
(NBC)
***
CBS has given
Unforgettable
a reprieve and will return the mind-bending "procedural" crime drama next summer.
"We had very strong research on the show," CBS entertainment president told TV critics during the network's portion of the TCA press tour. "So we did not want to let it go. We saw this as a window of opportunity to put the show on for next season, and we jumped on it."
Unforgettable
, which premiered last fall on CBS, stars Poppy Montgomery and Dylan Walsh. Thirteen episodes have been ordered.
***
Actress Sarah Jones has rebounded quickly from Fox's cancellation of
Alcatraz
. She'll be a series regular on CBS' new
Vegas
, starting with the second episode this fall.
Alcatraz
fans were left hanging, with Jones' detective character in critical condition in what turned out to be the final episode of
Alcatraz
. On
Vegas
, she'll play a Chicago mobster's daughter named Mia Rizzo. Her assignment in Sin City is running a scam from a casino "count room."
***
The CW announced Monday that the three-part web series
Dr. Horrible's Sing-Along Blog
, will make its TV debut on Thursday, Oct. 9th. Its mastermind is Joss Whedon (
The Avengers, Buffy the Vampire Slayer
), with Neil Patrick Harris starring as the title character and Nathan Fillion (
Castle
and Whedon's
Firely
) as his arch enemy, Captain Hammer.