TV Bulletin Board (March 17)
03/17/08 11:17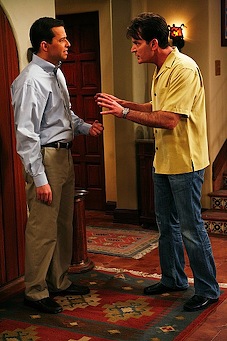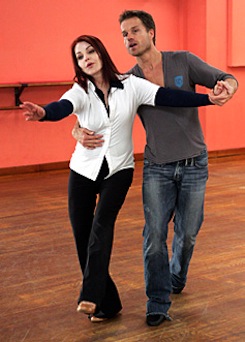 The strike-impaired TV season breathes anew Monday with the returns of CBS' Two and a Half Men and ABC's Dancing with the Stars, including partners Priscilla Presley and Louis van Amstel.
Photos from CBS and ABC
By ED BARK
CBS rolls out new episodes of four comedies while ABC steps into its sixth edition of
Dancing with the Stars
Monday (March 17).
The sequential 7 to 9 p.m. returns of
The Big Bang Theory, How I Met Your Mother, Two and a Half Men
and
The New Adventures of Old Christine
make CBS the first network to officially reboot after the writers' strike inflicted some deep cuts on prime-time schedules.
ABC also reloads at 7 p.m. with a 90-minute
Dancing with the Stars
followed by a new cycle of
The Bachelor
. Will well-plasticized celebrity hoofer
Priscilla Presley
crack and break on live television? Place your bets.
***
Fox News Channel provocateur
Bill O'Reilly
is bringing a one-man show to Grand Prairie's Nokia Theatre. Prices are a bit steeper than those for
The Uncle Barky Show
, which is free. O'Reilly's asking prices for his June 13th appearance are $49, $69 and $89. That's a bargain only if he includes one of his premium targets,
Mark Cuban
. But even then . . . Tickets go on sale March 21, and you can go
here
for more info.
***
A new episode of Comedy Central's
South Park
Wednesday (March 19) finds Stan and Kenny escorting
Britney Spears
to the North Pole, where they discover "the shocking secret behind her popularity." Should be sublimely tasteless.
Comedy Central also has announced some of the guests for
Night of Too Many Stars: An Overbooked Benefit for Autism Education
. Set for April 13 and hosted by
Jon Stewart
, the mini-telethon so far has booked appearances by
Will Ferrell, Tina Fey, Conan O'Brien, Sarah Silverman, Adam Sandler, Rosie O'Donnell, Steve Carell, Amy Poehler, Stephen Colbert, Kevin James, Matthew Broderick
and
Triumph the Insult Comic Dog
.
***
Believe it or not, NBC has a new miniseries planned. Its four-hour
The Last Templar
, adapted from the
Raymond Khoury
bestseller, will star
Mia Sorvino
and
Victor Garber
. Production is scheduled to begin in April in Montreal and Morocco.
***
USA network's fourth season of
Battlestar Galactica
will blast off on April 4th. On the Friday before that (April 28), the network will bow low to all things
Galactica
in a pair of half-hour specials titled
Battlestar Galactica: Revisited
and
Battlestar Galactica: the Phenomenon
.