Back to Life gives Showtime a gem of a shortform series
11/08/19 09:40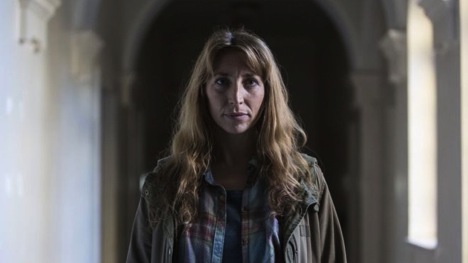 Daisy Haggard plays a somewhat comical ex-con in
Back to Life
. Showtime photo
Premiering:
All six episode are available Sunday, Nov. 10th on Showtime
Starring:
Daisy Haggard, Geraldine James, Richard Durden, Adeel Akhtar, Christine Bottomley, Liam Williams, Jamie Michie, Jo Martin
Produced by:
Sarah Hammond, Debbie Pisani, Daisy Haggard, Kate Daughton, Laura Solon, Chis Sweeney, Harry Williams, Jack Williams
By ED BARK
@unclebarkycom on Twitter
Convicted of a murder she actually did commit (although unintentionally), a teen returns home 18 years later with hopes of becoming whole again if only people will let her.
This also was the basic premise for
Sundance TV's Rectify
, which had a deadly serious four-season run. Showtime's six-episode
Back to Life
, available in its entirety on
Sunday, Nov. 10th
, is far lighter on its feet, and certainly none the worse for it. Billed as a comedy but in equal parts dramatic, this stellar BBC production can be navigated in one sitting, thanks to a total length of less than three hours. The time will fly by, and the ending won't leave you hanging. There's room for a Season Two if the principals are game. If not, enjoy
Back to Life
for what it is and probably should be -- a short-form series that knows its limits and where it's going.
Most enjoyable is Daisy Haggard's centerpiece character of Miri Matteson, whose small coastal hometown in Hythe, Kent remains in a collective mood to ostracize her. Unlike
Rectify
, her time behind bars is never revisited. Instead she's picked up outside prison walls by her judgmental mum Caroline (Geraldine James) and more supportive pup Oscar (Richard Durden). They've kept their only child's bedroom as is, with posters of Prince and David Bowie reminding her that life can be all too perishable.
Miri has no interest in closeting herself. She very much wants to get a job, and Oscar is all for that.
"We can't keep her locked up," he tells Caroline, who retorts, "Oh, she'll be fine. She's used to it." The snappy writing kicks in early and never flags, with
Back to Life
deftly navigating from hilarious to poignant and back again. It's also graphic with its euphemisms for sex acts and the requisite body parts. One such recurrent coupling, which won't be revealed, is very much on the down low.
Meanwhile, Miri successfully applies for a job at a fledgling fish and chips shop run by young bloke Nathan (Liam Williams). Their rapid-fire byplay is letter-perfect. "I can clean a toilet until it shines like the sun," she assures him.
Miri also meets a next door neighbor named Billy (Adeel Akhtar), who's both a gardener and caretaker to a batty, profane older woman. Bubbling up from Miri's past are ex-boyfriend Dom (Jamie Michie), now loutish and married, and best girlfriend Mandy (Christine Bottomley), who for reasons to be explained later never wrote or visited during those 18 years of incarceration for killing fellow bestie Lara.
Back to Life
is also about a town that with few exceptions is collectively without pity or empathy. Someone sprays "Psycho Bitch" in bright red letters on the Matteson home. Later on, a brick is thrown through the front window of the fish and chips eatery, leaving Miri bleeding from the head. Mum is also wounding Miri by distancing herself. This all comes to a head during a cathartic Episode 4.
The serious business of
Back to Life
gives the series some heft while Miri's comical parole officer Janice (Jo Martin) and a daftly inquisitive cop (in Episode 5) keep things from going full tilt
Rectify
-- or anything close.
Haggard's performance (she's also a co-writer) is a marvel, whether she's exuding vulnerability or dishing the sass. Used and abused but never quite de-fused, she propels
Back to Life
to the top tier of this season's newcomers, with ample help from a crackerjack ensemble.
GRADE:
A
Email comments or questions to:
unclebarky@verizon.net