TV Bulletin Board (Tues., Sept. 4) -- As expected, it's now Live! with Kelly and Michael
09/04/12 12:28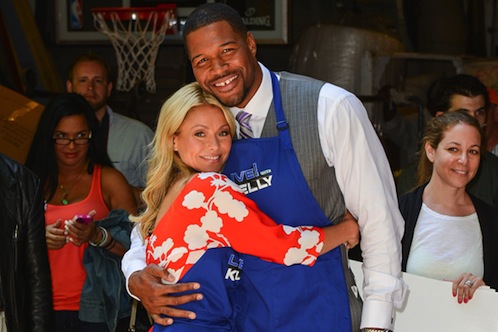 Embraceable two: Kelly Ripa and her new co-host, Michael Strahan
. Getty Images
By ED BARK
@unclebarkycom
The long and at times seemingly interminable search for Kelly Ripa's co-host officially ended Tuesday with the previously leaked naming of former New York Giants star Michael Strahan.
They were greeted with confetti and an ovation nine-and-a-half months after Regis Philbin left the long-running daytime hit on November 18th of last year. It's now called
Live! with Kelly and Michael
.
Strahan, who had been a guest host 20 times in the last two years according to a publicity release, will continue to be a part of
Fox NFL Sunday
, which returns for the start of the NFL season this Sunday.
"As a guest co-host, Michael's chemistry with Kelly was off the charts, and continued to grow each time he visited the show," longtime
Live!
executive producer Michael Gelman said in a statement. "The interaction between the co-hosts always has been what makes this show different from any other on television. Kelly and Michael's ability to play off of one another and just plain have a good time together creates great TV for the audience."
"You know how they say it's a dream come true? I truly can't say that because I didn't even know I could dream this," Strahan said on the show Tuesday after Ripa introduced him as "the newest member of our
Live!
family."
The first guest on the new
Live!
was actress Claire Danes, whose acclaimed
Homeland
series returns on Sept. 30th for its second season.
Two of Ripa's frequest guest hosts, Jeff Probst and Anderson Cooper, now have their own daytime shows.
Strahan's new high-profile job is part of a significant breakthrough for African-American males on this fall's daytime menu. Comedian Steve Harvey also has his own syndicated talk show, which premieres on Tuesday, Sept. 4th (at 2 p.m. in D-FW on NBC5).
Live! with Kelly and Michael
continues to air at 9 a.m. weekdays on Fox4 in D-FW.